Culture of China
From Academic Kids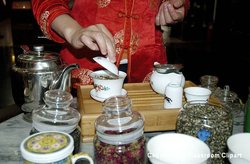 Home to one of the world's oldest and most complex civilizations, China boasts a history rich in over 5,000 years of artistic, philosophical, and political advancement. Though regional differences provide a sense of diversity, commonalities in language and religion connect a culture distinguished by such universally significant contributions as Confucianism. Credited with shaping much of Chinese thought, Confucianism was the official philosophy throughout most of Imperial China's history, and mastery of Confucian texts provided the primary criterion for entry into the imperial bureaucracy.
With the rise of Western economic and military power at the turn of the last century, however, non-Chinese systems of social and political organization gained adherents in China. Some of these would-be reformers totally rejected China's cultural legacy, while others sought to combine the strengths of Chinese and Western cultures. In essence, the history of 20th Century China is one of experimentation to find a new system of social, political, and economic organization that would allow for the reintegration of the nation in the wake of dynastic collapse.
Arts
Chinese art has varied throughout its ancient history, marked by periods by the ruling dynasties of China and changing technology, as well influenced by great philosophers, teachers and religion. Early forms of art in China were made from pottery, jade and by bronze casting in the Shang Dynasty. The Shang are most remembered for their bronze casting art work, noted for its clarify of detail. Early Chinese music and poetry was influenced by the Book of Songs, Confucius and Chinese Poet, Qu Yuan. Early Chinese instruments was based on percussion instruments, then later gave way to string and reed instruments.
In early imperial China, porcelain was introduced and was refined to the point it gave the word China to be synonymous with high-quality porcelain. Around 1st century AD, Buddhism arrived in China which influenced and introduced Buddhist art through the 8th century. Around this period, several well known Chinese poets influenced Chinese poetry, which included Cao Cao and his sons and Tao Quin. It was during the period of Imperial China that Calligraphy and painting became highly appreciated arts in court circles, with a great deal of work done on silk until after the invention of paper.
Buddhist architecture and sculpture thrived in the Sui and Tang dynasties, with the Tang dynasty giving openness to foreign influence. This lead to the appearance of Buddhist sculpture returning to a classical form, inspired by Indian art of the Gupta period. Toward the end of Tang dynasty, all foreign religions were outlawed to support Taoism. Also during this period, Chinese poetry thrived and is considered marked as the "Golden age" of Chinese poetry. In this period, the highly regarded greatest Chinese poets, Li Po and Du Fu composed their poems. Late Tang poetry was marked by the influence of two poets, Li Shangyin and Li Yu, the latter who introduced the stanza form. Painting from the Tang dynasty period mainly consisted of landscape that was to grasp emotion or atmosphere to catch the "rhythm of nature". Also in the Tang dynasty, Chinese opera was introduced.
In the Song dynasty, poetry was marked by a lyric poetry known as Ci which expressed feelings of desire, often in an adopted persona. Also in the Song dynasty, paintings of more subtle expression of landscapes appeared, with blurred outlines, and mountain contours to convey distance giving an impressionistic treatment of natural phenomena. It was during this period, painting emphasis was placed on spiritual rather than emotion of the previous period. In the Yuan dynasty, painting by the Chinese painter Zhao Mengfu influenced modern Chinese landscape painting while Yuan dynasty opera became a variant of Chinese opera which continues as Cantonese opera.
Late imperial China was marked by two specific dynasties: Ming and Qing. Of Ming Dynasty poetry, Gao Qi was acknowledged as the greatest poet of the era. Artwork in the Ming dynasty perfected color painting and color printing, with a wider color range and busier composition than Song paintings. In the Qing dynasty, Beijing opera is introduced which is considered the best known form of Chinese opera. Qing poetry was marked by a poet named Yuan Mei whose poetry has been described as "unusually clear and elegant language" and stressed the importance of personal feeling and technical perfection.
Modern Chinese art is heavily influenced by the New Culture Movement, which adopted Western techniques, introduced oil painting and employ socialist realism. Modern Chinese poetry was also influenced by the Cultural Revolution but several poets attempted to resist against the Cultural Revolution by incorporate pro-Democratic themes.
Architecture
Chinese architecture, examples of which can be found over 2,000 years ago, has long been a landmark of Chinese culture. There are certain features common to Chinese architecture, regardless of specific region or use.
The most important is its emphasis on the horizontal. In contrast to Western architecture, which tends to grow in height and in depth, Chinese architecture stresses on the width of the buildings. The halls and palaces in the Forbidden City, for example, have rather low ceilings when compared to equivalent stately buildings in the West, but their external appearances suggest the all-embracing nature of imperial China. This of course does not apply to pagodas, which in any case are relatively rare.
Another important feature is its emphasis on symmetry, which connotes a sense of grandeur; this applies to everything from palaces to farmhouses. One notable exception is in the design of gardens, which tends to be as asymmetrical as possible. Like Chinese scroll paintings, the principle underlying the garden's composition is to create enduring flow, to let the patron wander and enjoy the garden without prescription, as in nature herself.
Cinema
For many years Hong Kong has been a center of filmmaking. Traditionally, the majority of films made centered around the common themes of martial arts (Wu-xia films), organized crime (in particular Triads), and other traditionally Chinese themes. While these films were always popular in the domestic Hong Kong market, they were also popular around the globe, and especially in the United States. This reached its zenith in the 1970s, when martial arts films were very popular in the United States. Now, in the 2000s, Asian-made films seem to be having a resurgence in popularity abroad. In recent years Mainland China has also become a hotbed of filmmaking with such films as Crouching Tiger, Hidden Dragon, Hero, and House of Flying Daggers being popular not only in China but around the world. American filmmaker Quentin Tarantino plans to shoot his next film, a traditional Wu-Xia movie, in China and have its dialogue in Mandarin Chinese.
Another genre of films that become better known internationally is those depicting the exotic past of Hong Kong as a colonial city and of China with remarkable traditional symbols, notably under the directors Wong Kaw-wai and Zhang Yimou. However, some critics argue that both directors distorted the history so as to make the depiction more appealing.
Missing image
DragonThrone.jpg
Dance
Music
Opera
Visual arts and design
Calligraphy - Chinese painting
Pottery
Porcelain - Potter's Wheel - Glazes - Clay Figures
Handicraft
Joinery - Silk - Chinese paper art
Language and literature
Chinese astrology - Chinese calendar - Chinese classic texts - Chinese constellation - Chinese dragon - Chinese mythology - Chinese New Year - Chinese philosophy - Confucianism - Confucius - Eastern philosophy - Five Elements - Futs-Lung - I Ching - Qilin - Lao Zi - Listing of noted Confucianists - Listing of noted Taoists - Lung - Lunisolar calendar - Mohism - Qi - Taoism - Yin Yang - Zhang San Feng
Language
Chinese character - Chinese numerals - Chinese written language - Classical Chinese - List of Chinese dialects - Pinyin - Zhuyin
Literature
Main article: Chinese literature
Chinese classic texts - Chinese poetry - List of Chinese language poets
Clothing
Han Chinese clothing - Qipao - Ming official headwear - Manchu official headwear - Mandarin square
Contemporary Culture of China
Especially beginning in the late 1980's and early 1990's, China became exposed to more western elements, notably pop culture. American cinema is very popular in China. Young people tend to gather latenight at bars and nightclubs.
Cuisine
American Chinese cuisine - Boba milk tea - Cantonese cuisine - Cardamom - Chinese Buddhist cuisine - Chinese food therapy - Chinese Islamic cuisine - Chiuchow cuisine - Chopsticks - Chop suey - Dim sum - Double steaming - Fingerroot - Five-spice powder - Fortune cookie - Ginger root - Hakka cuisine - Hot salt frying - Hot sand frying - Hunan cuisine - Longan - Lychee - Mandarin cuisine - Monosodium glutamate - Shanghai cuisine - Soy sauce - Stir frying - Szechuan cuisine - Szechuan pepper - Taiwanese cuisine - Tofu - Wok
Society
Education
Ethnic groups and regionalisms
Social relations
Games
Che Deng - Chinese dominoes - Go (board game) - Go proverb - Gwat Pai - Kap Tai Shap - Keno - Mah Jong - Pai Gow - Pai gow poker - Shanghai solitaire - Tangram - Tien Gow - Tiu U - Xiangqi
Government
Chinese nationalism - Communism - Cultural genocide - Cultural Revolution
History
Origins of Chinese Civilization - Chinese prehistory - Dongyi - Hunn-Xianpi - Khitan - Jurchen - Tabgach - proto-Sino-Tibetan - Shang-Chu Kingdom - Yuezhi - Yue Kingdom - Nanyue Kingdom - Wu Kingdom
Hobbies
Marriage
Martial Arts
Jeet Kune Do - Kung Fu - Leung Sheung - Martial arts - Nei chia - Nunchaku - Pakua Chuan - Qigong - Shaolin - Tai Chi Chuan - Wing Chun - Wing Tsun - Wong Fei Hung - Wushu - Yip Man
Mass media
Religion
Bodhidharma - Buddhism - Dalai Lama - Falun Gong - Gedun Drub - Guanyin - Mahayana Buddhism - Shang Ti - Shaolin - Sonam Gyatso - Taoism - Tibetan Buddhism - Vajrayana - Yami - Zen
Science and technology
Chinese often say that they are proud of their four great inventions. These are the compass, gunpowder, paper and printing.
Abacus - Celestial globe - Counting rods - Traditional Chinese medicine - Rudder
Tourism
Popular tourist locations in China include the complex known as the Forbidden City, located in Beijing, which was once the center of Chinese Imperial power. The most popular tourist attraction in China, however, is the Great Wall of China, a massive stone wall built along China's borders. Also often visited is the archaeological find commonly known as the Terracotta Army, which is a vast collection of terracotta statues of Chinese Imperial soldiers constructed by one of China's emperors during its Imperial period.
Grand Canal of China - Marco Polo Bridge - Mount Huangshan - Mount Jiuhuashan - Mount Tianzhu - The Temple of Heaven - The Summer Palace - Dazu Rock Carvings - West Lake - Shanghai - Suzhou - Luzhi
Other, to be inserted above
Eunuch - Fists of Righteous Harmony - Ganqing - Giulio Alenio - Jean Joseph Marie Amiot - Jiang Hu - List of famous Chinese people - National Palace Museum - Sima Guang - Sima Qian - Triad - Zhang Heng - Zhu Shijie - Da Shan (Mark Rowswell) - Zun - Chinese unit
Communist culture
During the Cultural Revolution, all forms of traditional Chinese culture were suppressed. Initially only eight (8) "Sample Acts", or propaganda performances, were allowed, along with a Maoist cult of personality and a large number of revolutionary songs such as The East Is Red. Even today some Chinese people still regard Chairman Mao as a deity.
Maoism - Mao suit - Quotations from Chairman Mao Zedong
Important cities
See also