Carolina bay
From Academic Kids
Carolina bays are oval-shaped depressions found in coastal North Carolina, South Carolina, and northeastern Georgia. Their size varies from one to several thousand acres. About ten to twenty thousand of them are present, often in groups, with alignment almost universally from northwest to southeast. The bays have many different vegetative structures, based on the depression depth, size, hydrology, and subsurface. Many are marshy; a few of the larger ones are (or were before drainage) lakes. Some bays are predominately open water with large scattered pond cypress, while others are composed of thick, shrubby areas (pocosins), with vegetation growing on floating peat mats. Generally the southeastern end has a higher rim composed of white sand.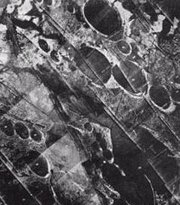 The bays are especially rich in biodiversity, including some rare and/or endangered species. Species that thrive in the bays' habitat include birds, such as wood storks, herons, egrets, and other migratory waterfowl, mammals such as deer, black bears, raccoons, skunks, and opossums. Other residents include dragonflies, green anoles and green tree frogs. The bays contain trees such as black gum, sweet gum, magnolia, bald cypress, maple, and shrubs such as sumac, button bush, gallberry and red bay. Plants common in Carolina bays are water lilies, sedges and various grasses. Some of the rare plants are found include bladderwort, butterwort, fetterbush, loblolly bay, pitcher plant, pond cypress, pond pine, red bay, sundew and sweet bay.
Some or the bays have been greatly modified within human history, under pressure from farming, highway building, housing developments and golf courses. Carvers Bay, a large one in Georgetown County was used as a bombing practice range during World War II. It has been drained and is mostly used for tree farming today. Others are used for vegetable or field crops with drainage.
In South Carolina, Woods Bay, on the Sumter-Clarendon County line near Turbeville has been designated a state park to preserve as much as possible in its natural state. Also in Clarenden County (near Manning) another bay, Bennett's Bay is a Heritage Preserve.
Various theories have been proposed to account for them, including action of sea currents when the area was under the ocean or the upwelling of ground water at a later time. The most accepted theory today is that they are impact craters created by a meteor shower. The common orientation of the bays in the same direction, and the clustering (possibly from meteors that broke up before impact) of the craters argues in favor of this point of view.
The bays are believed to be of about the same age. However, at least one very large crater that is much older has been identified at Snows Island, at the junction of Lynches River and the Pee Dee River.
External link