Microcar
From Academic Kids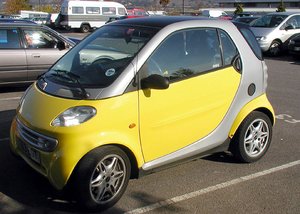 A microcar is an extremely small automobile. Various definitions are used, including "less than 3 metres in length" and "less than 85 cubic feet/2400 litres interior volume". Typically, microcars seat only the driver and a single passenger, and many have only three wheels. Microcars are usually designed and produced for economic purposes when materials are scarce or fuel is scarce and expensive. Many microcar designs flourished in post-World War II Europe, particularly in Germany, where former military aircraft manufacturers such as Messerschmitt and Heinkel were prominent microcar makers. The Messerschmitt KR175 and KR200 even had aircraft-style bubble canopies, giving rise to the term bubble car to refer to all these post-war microcars.
The economy of operating such a small car was often helped by the fact that three-wheeled microcars were treated as motorcycles for tax and insurance purposes in many places. In some countries (e.g. Austria) threewheelers with a certain max. weight were considered as motorcycles with side car and therefore no car drivers licence was needed. This was assuring a certain market for elder people who did not want to pass a car drivers licence. France also produced large numbers of similar tiny vehicles called voiturettes, but unlike the German makes, these were rarely sold abroad.
Very small cars have also been popular in Japan, where again they attract various tax and insurance benefits when compared to other vehicles. These are known as keicars and differ from most of the European microcars in that they are typically designed and built as scaled-down versions of very traditional car configurations, while European microcar designs tend to be unorthodox and sometimes bizarre.
The smart car launched in 1998 could be seen as a successful re-invention of the microcar principle. Like the Japanese keicars, it is of relatively conventional design.
Microcars by countries
Austria
Brazil
France
Germany
Hungary
Italy
India
Japan
Spain
United Kingdom
United States
USSR
See also
External links