Brownsea Island
From Academic Kids
Missing image
Brownsea.island.jetty.arp.jpg
Brownsea Island is the largest of eight islands in Poole Harbour in Dorset, England. The island is 1.5 miles long and 0.75 miles wide. Much of the island is a Nature Reserve and an important habitat for birds owned by the National Trust. The island is open to the public, but the trust is able to manage the flow of visitors in the form of boat timetables and in 2002 received 105,938 visitors.
Ecology
Brownsea Island has built up on a bare sand and mud bank deposited in the shallow harbour. Succession has taken place on the island to create a topsoil able to support complex ecosystems.
The nature reserve on the island is leased from the National Trust by Dorset Wildlife Trust and includes a brackish lagoon and area of woodland. Other ecosystems on the island include saltmarsh, reedbed, two freshwater lakes, alder carr, coniferous woodland, deciduous woodland and arboretum. The entire island is designated a Site of Special Scientific Interest.
The island is one of the few places in southern England where red squirrels survive because grey squirrels have never been introduced to the island. Brownsea also has a small ornamental population of peacocks.
In the past invasive species such as rhododendrons were introduced to the island but the trusts have now cleared these plants away.
History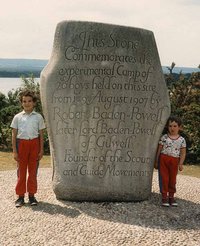 Brownsea Island's story is first recorded in the 7th century, when a hermit living on the island lit beacons to guide boats into the harbour. In 1015 King Canute landed on the island before attempted invasions at nearby Wareham and Hamworthy (Poole).
The island was fortified by Henry VIII, and the castle he built became a parliamentary stronghold in the English civil war. After electricity was installed at the end of the 19th century the castle caught fire and was only partially rebuilt. The National Trust now leases the castle to the John Lewis group who run it as a private hotel.
From August 1-9, 1907, Lord Baden-Powell of Gilwell held an experimental camp for 22 boys on the island. The subsequent publishing of Scouting for Boys started the Scout Movement.
In the 1930s the owner of the island, Mrs. Bonham-Christie closed the island to visitors to make it a wildlife sanctuary. This led to the island becoming overgrown, but when the National Trust purchased the island after the owner's death, it was reopened to the public.
In the Second World War lights were placed on the island at night to divert the attention of bombers away from the nearby conurbation of Poole and Bournemouth, army camps on the Purbecks and the important naval base on the Isle of Portland. There are many bomb craters on the island which are havens for rare wildlife.
External links
Missing image
Brownsea.island.peacock.arp.jpg
References