British Airways
From Academic Kids
For the 1930s airline of similar name see British Airways Ltd.
British Airways is the largest airline of the United Kingdom. It is also one of the largest airlines in the world, with the greatest number of flights from Europe to North America. Its main bases are London Heathrow (LHR) and London Gatwick (LGW).
Code Data
History
The airline can trace its origins back to the birth of civil aviation and the pioneering days after the First World War. On 25 August 1919 its forerunner company, Aircraft Transport and Travel (AT&T), launched the world's first daily international scheduled air service between London and Paris. On 31 March 1924, Britain's four fledgling airlines - Instone, Handley Page, Daimler Airways (a successor to AT&T) and British Air Marine Navigation - merged to form Imperial Airways, which developed its Empire routes to Australia and Africa.
Meanwhile a number of smaller UK air transport companies had started flights. These merged in 1935 to form the original privately-owned British Airways Ltd. Following a government review Imperial Airways and British Airways were were nationalised in 1939 to form the British Overseas Airways Corporation (BOAC). Post-war, BOAC continued to operate long-haul services, other than routes to South America - these were flown by British South American Airways which was merged back into BOAC in 1949. Continental European and domestic flights were flown by a new airline, British European Airways (BEA).
The 1950s saw the world enter the passenger jet era - led by BOAC, with the De Havilland Comet flying to Johannesburg in 1952, halving the previous flight time. The birth of the mass package-holiday business meant changes for the airline industry. BEA met this by establishing BEA Airtours, which took off in 1970. In 1972 BOAC and BEA were combined under the newly formed British Airways Board, with the separate airlines coming together as British Airways in 1974. British Airways, simultaneously with Air France, inaugurated the world's first supersonic passenger service with Concorde in January 1976.
Privatisation
Lord King was appointed as Chairman in 1981 with the mission of preparing the airline for privatisation. King hired Colin Marshall as CEO in 1983. The flag carrier was privatised and floated on the London Stock Exchange in February 1987 by the Conservative government. In April 1988 British Airways effected the controversial takeover of Britain's second-force airline British Caledonian.
"Dirty tricks"
Soon after privatisation Richard Branson's Virgin Atlantic, which began with one route and one Boeing 747 in 1984, was beginning to emerge as a serious threat on some of BA's most lucrative routes. Following a highly publicised mercy mission to Iraq to fly home hostages of Saddam Hussein in 1991, King is reported to have told Marshall and his PA Director David Burnside to "do something about Branson" ¹. This began the campaign of "dirty tricks" which ended in Branson suing King and British Airways for libel in 1992. King countersued Branson and the case went to trial in 1993. British Airways, faced with likely defeat, settled the case giving £500,000 to Branson and a further £110,000 to his airline; further, BA was to pay the legal fees of up to £3 million. Branson divided his compensation among his staff, the so-called "BA bonus".
Missing image
Ba.concorde.g-boac.719pix.jpg
During the 1990s BA became the world's most profitable airline and trumpeted the slogan "The World's Favourite Airline." In 1992 Deutsche BA was established as a subsidiary operating in Germany. By the time it was sold in June 2003 DBA was operating 16 Boeing 737s and was the second-largest German domestic carrier, after Lufthansa.
In 1995 BA formed British Asia Airways, a subsidiary based in Taiwan. British Asia Airways was set up due to political sensitivities, the Union Jack tailfin being replaced by Chinese characters. Many airlines followed the same practice, e.g. Qantas flew as "Australia Asia Airways" and KLM's operations became "KLM Asia".
Bob Ayling
In 1996 British Airways, with its newly appointed Chief Executive Bob Ayling, entered a period of turbulence. Increased competition, high oil prices and a strong pound hurt profits. BA management and trade unions clashed and the resulting disruption cost the company hundreds of millions of pounds. In 1997 Ayling dropped BA's traditional Union Flag tailfin livery in favour of world design tailfins, in an effort to change its image from a strictly British and aloof carrier to a more cosmopolitan airline. The move was not a success and Ayling slowed the process, eventually declaring the fleet would sport a dual livery; half a Union flag design, half the world art tailfins. Ayling devoted a lot of time pursuing a merger with American Airlines, but this was ultimately unsuccessful due to the conditions placed on the deal by regulatory authorities, the most painful of which would have been the sacrificing of landing slots at Heathrow.
Positive news during Ayling's reign included cost savings of £750m and the establishment of the successful, but highly subsidised, Go Fly in 1998. Go was a low-cost carrier intended to compete in the rapidly emerging "no-frills" segment. After four years of successful operations, the airline was sold off and merged with easyJet. Another efficiency sought by Ayling was the reduction of capacity, cancelling Boeing 747-400 orders in favour of the Boeing 777 and rationalising BA's short-haul fleet with an order for the efficient Airbus A319/A320/A321 family.
Rod Eddington
In 1999 British Airways reported a 50% slump in profits, its worst since privatisation. In March 2000 Bob Ayling was removed from his postion. British Airways announced Rod Eddington as his successor in May. Eddington set about cutting the workforce further, dramatically so after the slump caused by the September 11th attacks in 2001. In May 2001 Eddington announced the return of the Union Flag to the entire fleet, reversing his predecessor's rebranding exercise.
On 8 March 2005, the company's chairman Martin Broughton announced that former Aer Lingus CEO Willie Walsh would take over from Rod Eddington upon his retirement in September 2005.
During the fiscal year ending 2005, BA carried some 35m passengers on revenue exceeding £7.8bn, posting a pre-tax profit of £415m. It employs 51,939 staff.
Financial performance
| Year ended | Turnover (£m) | Profit/(loss) before tax (£m) | Net profit/(loss) (£m) | Basic eps (p) |
| --- | --- | --- | --- | --- |
| 31 Mar 2005 | 7,813 | 415 | 251 | 23.4 |
| 31 Mar 2004 | 7,560 | 230 | 130 | 12.1 |
| 31 Mar 2003 | 7,688 | 135 | 72 | 6.7 |
| 31 Mar 2002 | 8,340 | (200) | (142) | (13.2) |
| 31 Mar 2001 | 9,278 | 150 | 114 | 10.5 |
| 31 Mar 2000 | 8,940 | 5 | (21) | (2.0) |
| 31 Mar 1999 | 8,915 | 225 | 206 | 19.5 |
| 31 Mar 1998 | 8,642 | 580 | 460 | 44.7 |
| 31 Mar 1997 | 8,359 | 640 | 553 | 55.7 |
| 31 Mar 1996 | 7,760 | 585 | 473 | 49.4 |
Current Operations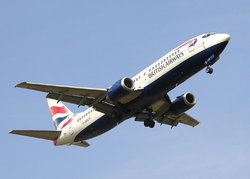 British Airways is based at London Heathrow Airport in London, England. It also has a commanding presence at Gatwick and Manchester International Airport. BA has succeeded in dominating Heathrow to the point that the airport is commonly referred to as Fortress Heathrow within both the airline and its competitors.
As an incumbent airline, BA had grandfather rights to around 36% of takeoff and landing slots at Heathrow, many of which are used for the lucrative trans-Atlantic market. Some competitors, such as Virgin Atlantic, bmi British Midland and United Airlines, assert that this stifles competition and some political think-tanks recommend an auction of slots. In recent years British Airways has been buying slots from other airlines including United Airlines, SN Brussels and Swiss International Air Lines, and now owns about 42% of slots at Heathrow.
Some British Airways services are operated by various subsidiaries and franchisees:
Subsidiaries
Franchisees
British Airways is pioneering the use of "flat beds" in the premium cabins on their long-haul routes and have the most flat beds of any airline on their aircraft. On 8 September 2004 British Airways announced that it was to sell its 18.5% stake in Qantas, but would continue their alliance (such as sharing revenue), particularly on the Kangaroo routes. Commentators have suggested that while the expected £425m from the sale will be used to reduce the airline's debt mountain it may also be used to fund expansion.
British Airways is a founding member of the oneworld airline alliance.
Destinations
See
Fleet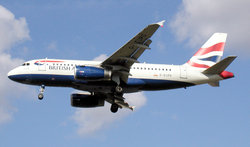 Up until recently for its main fleet, BA had traditionally been a Boeing customer. This has been always been a subject of controversy, as many expect that as a British carrier it would be natural for BA to support the British manufacturing industry and buy Airbus jets (BAE Systems build all wings for Airbus jets and many Airbus subcontractors are based in the UK). The company has defended its decision by arguing that, with the exception of the 777 fleet, it has always equipped its Boeing aircraft with British-made Rolls-Royce engines. This goes back to the 1960s, when BOAC were replacing its accident-prone Comet aircraft with Boeing 707s - a condition was placed on the company that it used Rolls-Royce power for the new jets.
However, it has operated non-Boeing planes in the past mainly as a result of takeovers and joint agreements with other airlines. One example of this were those planes acquired through the buyout of British Caledonian Airways in the 1980s, and it successfully operated both the Douglas DC-10 and Airbus A320 for a number of years. The latter was significant, as BA's successful operations with the ex-BCAL A320s led to its placing a huge order for the type (and its smaller brother the A319) to replace its own ageing fleet of Boeing 737s. BA is also rumoured to be in secret talks with Boeing over its proposed 747-Advanced (which will compete with the Airbus A380), despite public announcements that it plans to reduce the size of its 747 fleet in favour of the 777. Additionally, BA is said to be considering the Boeing 787 as a possible replacement for its 767 fleet.
BA was an operator of the famous Aerospatiale-BAC Concorde supersonic airliner, with a daily service between London and New York. Throughout its life, the Concorde was very much an expensive flight-of-fancy, and could only be operated profitably by flying first-class passengers at exorbitant ticket prices affordable only by the rich. With the Paris Crash in 2000, followed by the 9/11 terrorist attacks the following year, coupled to escalating maintenance costs, the writing was on the wall for Concorde. It was announced (on 10 April 2003) that, after 24 October 2003, they would cease scheduled services with Concorde, due to depressed passenger numbers. The last day of its Saturday-only London Heathrow to Barbados Concorde flight was on 30 August 2003.
The British Airways fleet consists of the following aircraft (at June 2005):
Tail fins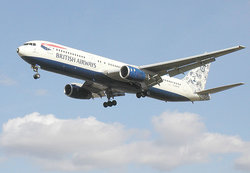 See full article: British Airways ethnic liveries
For a long time British Airways aeroplanes had the Union Flag painted on their tail fins. In 1997, they were repainted (and the planes re-named) with abstract world images, Delft pottery or Chinese calligraphy for example, relating to countries they fly to. This caused problems with air traffic control: previously controllers had been able to tell pilots to follow a BA plane, but because they were each painted in different colours they were harder to identify.
Margaret Thatcher famously covered the tail fin of a model aircraft with the new design using her handkerchief at the 1997 conservative party conference. She claimed they made it look like a third world airline. "We fly the British flag, not these awful things."
In May 2001, chief executive Rod Eddington declared that all BA planes would be repainted with the Chatham Dockyard Union Flag, a design first used on Concorde.
World Cargo
BA is, through its subsidiary British Airways World Cargo, the world's fifth-largest cargo airline. BA World Cargo is a profit centre in its own right and has an extensive global reach through the British Airways scheduled network. In addition to the main fleet, BA World Cargo wet lease three Boeing 747-400F dedicated freighter aircraft from Atlas Air, one of which is presented in full British Airways World Cargo livery, as well as utilising of space on dedicated freighters operated by other carriers on European services. Dedicated freighter services allow the airline to serve airports not currently connected to the scheduled network, such as London Stansted, Glasgow Prestwick, Frankfurt-Hahn, Vitoria and Seoul.
British Airways opened its £250m World Cargo centre, Ascentis, at Heathrow in 1999. As one of the largest and most advanced automated frieght handling centres in the world, it contains a Special Handling Centre for unusual and premium cargo, and a Perishables Handling Centre for fresh produce, of which it handles over 80,000 t per year. BA World Cargo also handles freight at London's Gatwick and Stansted airports, and, through its partner British Airways Regional Cargo, at all of the main regional airports throughout the UK.
Other facts of interest
Missing image
Ba.b747.750pix.jpg
British Airways and Air France were the only two Concorde operators.
British Airways was the first airline to implement full-flat beds in Business class, and many airlines subsequently followed the practice.
The airline is the largest operator of the Boeing 747-400, with 57 aircraft. JAL has the largest fleet of 747s, but only 45 Series 400s.
British Airways aircraft generally use the Airline call sign "Speedbird" in ATC radio transmissions. On UK Domestic routes from Heathrow to Glasgow, Edinburgh and Manchester, the call sign "Shuttle" is used.
British Airways has featured prominently in recent James Bond films, most notably an air-air shot of a BA 747 in Die Another Day.
BA's NYSE stock ticker-code is "BAB"
Boeing's airline code for BA is XXX-X36, i.e. 737-236, 747-436, 777-236.
British Airways' Frequent Flyer Program is one of the largest in the world, and is known as the Executive Club
In recent years, British Airways has transported the Prime Minister of the United Kingdom and Queen Elizabeth II on state duties, using a dedicated Boeing 777 aircraft. Royal Air Force transports were traditionally used in such roles.
British Airways is, together with Virgin Atlantic, a premier partner of the London 2012 Olympic bid campaign. One of the airline's Boeing 747-400 aircraft became a "flying petition" for the games, with Prime Minister Tony Blair being the first to sign the aircraft. The official bid campaign video also features BA and Virgin flight attendants 'competing' in a race to cross a road.
Further reading
1. Gregory, Martyn. Dirty Tricks: British Airways' Secret War Against Virgin Atlantic. London: Virgin, 2000. ISBN 0753504588
External links
Template:Airlines of the United Kingdom

Template:Commons
de:British Airways es:British Airways fi:British Airways fr:British Airways hu:British Airways it:British Airways ja:ブリティッシュエアウェイズ nl:British Airways pl:British Airways sv:British Airways