Aust
From Academic Kids
Missing image
Aust-concrete-path.jpg.jpg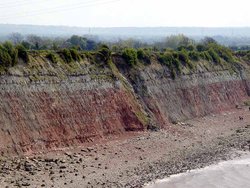 Aust is a small village in South Gloucestershire, England. It is near the eastern end of the Severn Bridge, which was built in 1966 to carry the M4 motorway (now the M48 motorway) over the route of the old Aust Ferry. It lies at Template:Gbmapping.
A road, now known as the old passage, runs near the A403 that follows the bank of the River Severn. Following on from the old passage is a path that leads to the he ruins of the Aust ferry terminal and a long concrete path that leads to a small beach near the bridge. At the beach it is possible to walk to the bottom of the bridge at low tide. The cliff on the beach is a subject of frequent erosion many fossils have been discovered there. Fossil collectors visit the site after rock falls and storms.
There is also a large amount of farmland on the river bank, which is often flooded due to the high tides of the River Severn.
A major electricity pylon also runs over the river at Aust. The path is used as an access road to the pylon.
Aust is also home to a small motorway service station near the bridge, which was reduced in size due to falling business caused by the traffic going over the newer bridge. At the service station there is a footpath that allows people to walk over the bridge.
The village itself is small. It has been divided by both the motorway and dual carrageways that dominate the local landscape. It has a church and a public house.