Virtua Fighter
From Academic Kids
Virtua Fighter
Missing image
Virtua_Fighter.png
Screenshot Virtua Fighter


Developer:
Sega
Publisher:
Sega
Game designer:
Seiichi Ishii (main designer), Yu Suzuki (director)
Release date:
1993
Genre:
Fighting
Game modes:
Up to 2 players simultaneously
Cabinet:
Standard
Controls:
Joystick; 3 buttons
Monitor
Orientation:
Horizontal
Type:
Raster, medium resolution (Used: 496 x 384)
Notes
First 3D fighting game.
Virtua Fighter is a 1993 fighting game developed by the Sega studio AM2, headed by Yu Suzuki. It was the first in a series of similar games and has been ported to some home video game consoles.
In 1998 the series was recognized by the Smithsonian Institution for contributions in the field of Art and Entertainment, and became a part of the Smithsonian Institution's Permanent Research Collection on Information Technology Innovation. The arcade cabinets are currently kept at the Smithsonian's National Museum of American History.
Overview
The Virtua label indicates that the on-screen action takes place in 3D; Virtua Fighter was the second game of this genre to do so. The first game of this genre was 4D Sports Boxing for the Amiga and was released in 1992. The images were created using wireframes and flat-shaded polygons. Beyond 3D it retained the staple of multiple characters, each with their own distinctive 'moves.' Highly regarded as having the most in-depth fighting engine the world has ever known using real world fighting techniques.
Sequels
The brainchild of AM2's Yu Suzuki, Virtua Fighter was released in 1993 as an arcade game using hardware jointly developed by Lockheed Martin and Sega. New versions of the game accompained each new iteration of the base hardware (Model 1, Model 2 and Model 3). Virtua Fighter 2 was released in 1994 and Virtua Fighter 3 in 1996 with Virtua Fighter 3tb in 1997 adding tournament battles featuring more than two characters (not simultaneously). Virtua Fighter 4 was released on the NAOMI hardware in 2001. The game is consistently popular in its home arcade market.
In true Sega fashion, their Virtua prefix was used on a variety of other products such as Virtua Racing and Virtua Tennis. The missing 'l' was used for the robot fighting game Virtual On, probably because the storyline centered around virtual reality ('VR').
Video Game Console Versions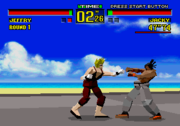 The transition of Virtua Fighter to the home console was initially difficult due to the comparative weakness of early Sega consoles, but VF1 featured on the 32X and the Sega Saturn in 1995. Despite being the more powerful system, the Saturn version suffered due to poor graphics and jerky gameplay. An update of Virtua Fighter called Virtua Fighter Remix was made in order to deal with the problems. Sega released Virtua Fighter 2 on the Saturn for Christmas 1995 and a super deformed version called Virtua Fighter Kids. Also released for the Saturn and related to Virtua Fighter were Fighters Megamix (1996) and the curious Virtua Fighter Portrait Series (1996).
Missing image
SMS_Virtua_Fighter_Animation_1996.png
Sega's 8-bit console, Game Gear and the 16-bit Sega Genesis were not capable of displaying three-dimensional graphics. To be still able to profit from the franchise's success, Sega created two-dimensional ports for those systems in 1996. The Genesis got a 2D-version of Virtua Fighter's successor Virtua Fighter 2, which featured graphics that somewhat resembled the original 3D game. The Sega Master System conversion did not have much in common with the original, used very simplified graphics and was consequently called Virtua Fighter Animation.
The only port of Virtua Fighter 3 was for the Dreamcast by Genki with Virtua Fighter 3tb in 1998. Following Sega's retreat from the hardware market in mid-2001, Virtua Fighter 4 was ported by Sega to the PlayStation 2 in 2002. This was followed by Virtua Fighter 4: Evolution, an update that added two new characters as well as a host of game balancing tweaks, in 2003. Virtua Fighter 5 has been announced, but little is known about it as of yet.
The Dreamcast game Shenmue, also developed by AM2/Yu Suzuki, was called Virtua Fighter RPG in the early stages of development and features a Virtua Fighter-like fighting system and in-game Virtua Fighter memorabilia. Yu Suzuki has said numerous times that he used Akira as the main influence in the main character Ryo Hazuki. Throughout the game and its sequel, there are several characters whose appearances and fighting styles closely match those of the Virtua Fighter series.
Virtua Fighter Quest, a simplified version with new characters aimed at the children's market, was released for the Nintendo GameCube in 2004.
See also
External links