Virgin River
From Academic Kids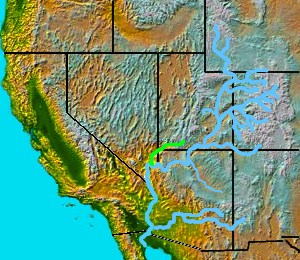 The Virgin River is a tributary of the Colorado River, 200 mi (322 km) long, in the southwestern United States.
It is formed in southwestern Utah, just south of Zion National Park near Springdale, by the confluence of the East Fork Virgin and North Fork Virgin rivers. It flows southwestward, south of St. George, and across the northwestern corner of Arizona, past the town of Littlefield. It enters southern Nevada near the town of Mesquite and empties into the Colorado at the Lake Mead reservoir, approximately 40 mi (64 km) east of Las Vegas. The last 30 miles (48 km) of the river form the north arm of Lake Mead.
The lower valley of the river provides irrigation for the cultivation of cotton, pomegranates, and figs.
See also