San Juan River (Utah)
From Academic Kids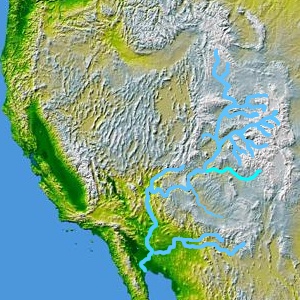 The San Juan River is a tributary of the Colorado River, 400 mi (644 km) long, in the western United States.
It rises in southern Colorado, along the southern slope the San Juan Mountains to the west of the continental divide in southwestern Colorado. Tributaries in Colorado which also rise in the San Juans include the Animas River, the Piedra River and the Los Pinos River.
The San Juan river provides good fishing in its warm, slow, muddy waters. The river meanders through goosenecks, sometimes meandering as much as 5 miles within a one mile straight distance, such as in Gooseneck State Park. The river joins the Colorado at Lake Powell after flowing through New Mexico and Utah, where it is known as the San Juan Arm of the lake.
See also
External link