Stanford White
From Academic Kids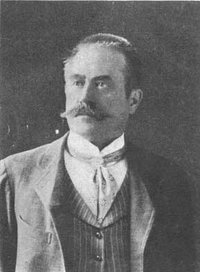 Stanford White (September 11, 1853 - June 25, 1906) was an American architect and the "celebrity" partner in the architectural firm of McKim, Mead, and White, the frontrunner among Beaux-Arts firms. He designed a long series of formal and informal houses for the rich and the very rich, and various public, institutional, and religious buildings. His design principles embodied the "American Renaissance". His personality outshone his partner Charles Follen McKim now seen as every bit White's equal as an architect, and his scandalous sex life eclipsed everything, for those who have no taste for architecture.
The interesting part of White's career began as the principal assistant to Henry Hobson Richardson, the greatest American architect of the day, creator of a style we recognized today as "Richardsonian Romanesque." In 1878 White embarked for a year and a half in Europe, and when he returned to New York in September 1879, he joined Charles Follen McKim and William Rutherford Mead to form McKim, Mead and White.
He built the second Madison Square Garden (1890; demolished in 1925), The Cable Building— the Broadway cable car power station (611 Broadway, 1892) Madison Square Presbyterian Church, the New York Herald Building (1894; demolished), the First Bowery Savings Bank, at the Bowery and Grand Street, 1894, Washington Square Arch (1889), Judson Memorial Church on Washington Square, and the Century Club, all in New York City. He helped develop Tesla's Wardenclyffe Tower (his last design).
In the division of projects within the firm, the social and gregarious White landed the majority of commissions for private houses. His fluent draftsmanship was highly convincing to clients who might not get much visceral understanding from a floorplan, and his intuition and facility caught the mood. White's Long Island houses have survived well. They are of three types, depending on their locations: Gold Coast chateaux, neo-Colonial structures in the neighborhood of his own house at "Box Hill" in Smithtown (White's wife was a Smith) and the South Fork houses from Southampton to Montauk Point.
Missing image
StanfordWhitefloorplanMetcalfe.jpg
Even in his "informal" shingled cottages, there were usually double corridors for separate circulation, (illustration, left) so that a guest never bumped into a laundress with a basket of bedlinens. Bedrooms were characteristically separated from hallways by a dressing-room foyer lined with closets, so that an inner door and an outer door gave superb privacy (still the mark of a really good hotel). White lived the same life as his clients, not quite so lavishly perhaps, and he knew how the house had to perform: like a first-rate hotel, like a theater foyer, like a theater set with appropriate historical references. White was an apt designer, who was ready to do a cover for Scribner's Magazine or design a pedestal for his friend Augustus Saint-Gaudens' sculpture. He extended the limits of architectural services to include interior decoration, dealing in art and antiques, and even planning and designing parties. He collected paintings, pottery, tapestries. If White could not procure the right antiques for his interiors, he would sketch neo-Georgian standing electroliers or a Renaissance library table. Outgoing and gregarious, he had a large circle of friends and acquaintances, many of whom became clients.
White had a major influence in what has become known as the "Shingle Style" of the 1880s, on Neo-Colonial style, and the Newport cottages for which he is celebrated.
He designed and decorated spectacular Fifth Avenue mansions for the Astors, the Vanderbilts (in 1905), and other high society families. His Washington Square Arch still stands (see illustration), and so do many of his clubs, which were focal points of New York society: the Century, Metropolitan, Players, Lambs, Colony and Harmony clubs. He was noted for his womanizing and installed the notorious red velvet swing in his bachelor-like apartment in the "Giralda" tower at old Madison Square Garden, where he entertained young chorines.
He was shot and killed by Harry K. Thaw, the jealous millionaire husband of Evelyn Nesbit, a popular actress and artist's model, whom White had seduced when she was 16. William Randolph Hearst's newspapers had a field day.
Books: the "White literature"
The Architect of Desire - Suzannah Lessard. Light on the "architect"
Glamorous Sinners - Frederick L. Collins
Evelyn Nesbit and Stanford White: Love and Death in the Gilded Age - Michael Mooney
The Murder of Stanford White - Gerald Langford
The Traitor - Harry K. Thaw
"The Girl in the Red Velvet Swing" - Charles Samuels
"The Story of my Life" - Evelyn Nesbit Thaw - 1914
"Prodigal Days" - Evelyn Nesbit Thaw - 1934
Books: architecture
Samuel G. White, with Jonathan Wallen (photographer), The Houses of McKim, Mead and White 1998. Lavish illustrations.
Wayne Craven, Stanford White: Decorator in Opulence and Dealer in Antiquities, 2005. Stanford White as an interior decorator and a dealer in the fine and decorative arts
Fictional works based at least in part on the Thaw/White murder
External links