Sports car racing
From Academic Kids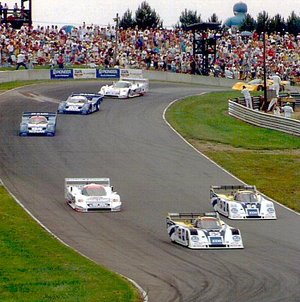 Sports car racing is a form of circuit racing, with purpose-built cars that nevertheless have enclosed wheel wells and often have closed cockpits.
A kind of hybrid between the purism of open-wheelers and the familiarity of touring car racing, this racing is often associated with the annual Le Mans 24 Hours endurance race, one of the oldest motor races still in existence. There are currently two series of sports car races based on the rules in use at Le Mans, the American Le Mans Series in North America and the Le Mans Endurance Series in Europe. However, sports car racing in general extends far beyond these rules, encompassing the Grand-Am professional series in North America as well as amateur road racing classes in the Sports Car Club of America.
The prestige of Ferrari, Porsche, Lotus, Maserati, Alfa Romeo, Mercedes-Benz, Jaguar, and Aston Martin derives in part from success in sports car racing. Road cars sold by these manufacturers have in many cases been very similar to sportscars raced, both in engineering and styling. It is this close association with the 'exotic' nature of the cars used that serves as a useful distinction between sports car racing and Touring Cars.
Types of Sports Car Racing
There are many kinds of sports car racing that can be broadly broken down into two categories: Prototype racing and Grand Touring (GT) racing. These two categories are often mixed together in a single race.
Prototype racing is the highest level of competition in the classification of the Automobile Club de l'Ouest (ACO), the sanctioning body for Le Mans and the model for the American Le Mans Series. Prototypes are purpose-built racing cars, with enclosed wheels, and either open or closed cockpits. Regulations regarding bodywork, engine style and size, tyres and aerodynamics are comparatively open. Prototypes may be (and often are) one-of-a-kind machines, and need bear no relation to any road-going vehicle. In the ACO classification system, two categories are recognized: P1 and P2. Cars competing in the P1 category must weigh no less than 900kg and are limited to 6000cc naturally aspirated and 3600cc turbocharged engines. P2 cars can weigh much less — 750kg — but are restricted to 3400cc aspirated or 2000cc turbocharged powerplants.
Grand Touring (from the Italian word Gran Turismo) racing is the most common form of sports car racing, and is found all over the world, in both international and national series. Under the ACO rules, Grand Touring cars are divided into two categories, Gran Turing 1 (GT1, formerly GTS) and Gran Turing 2 (GT2, formerly GT). GT1 cars are purpose-built race machines based upon production exotic cars with homologation production limits of 25 cars (for small manufacturers, such as Saleen) or 100 cars (for major manufacturers like DaimlerChrysler). As the name of the class implies, the exterior of the car closely resembles that of the production version, while the internal fittings may differ greatly. GT cars are very similar to the FIA GT3 classification, and are 'pure' GT cars; that is production exotic cars with relatively few internal modifications for racing.
FIA divides GT cars into 2 categories, called GT and N-GT. These divisions are very close to the ACO rules outlined above, and again some crossover racing does occur, particularly in the N-GT class. Historically, these are the GT2 and GT3 classes, merely renamed.
In 1998, FIA dropped the old GT1 category because of rising costs. The GT1 class was for the purebred supercars and purpose-built race cars, such as the McLaren F1. Rising costs coupled with declining entries led to the death of this class, and it was replaced by GT2 (FIA) and Le Mans Prototype (ACO).
Other Divisions
In North America, the Grand-Am Rolex Sports Car Series maintains its own interpretation of sports car racing, dividing its races into two classes. Grand-Am GT cars are similar to, but less powerful than, ACO-specification GT machines, while the Daytona Prototype is an entirely new creation. DPs, as they are often called, are closed-cockpit, purpose-built racing machines. Compared to Le Mans Prototypes, DPs are sharply limited in terms of approved technology and power - for instance, they are required to be constructed of steel tube frames rather than carbon-fiber monocoques.
Amateur sports car racing throughout the United States is sanctioned by clubs such as the Sports Car Club of America. The SCCA's sports-racing classes include C and D Sports Racing, Sports 2000 and Spec Racer Ford, in descending order of speed and sophistication.
In Japan, the All-Japan GT Championship (JGTC) divides cars into two classes, called GT500 and GT300. These cars follow an entirely different concept of sports-car racing from that in Europe or North America, featuring partial-tube frame chassis, widely divergent engine layouts, and so on. The numbers in the classifications refer to the maximum power available to each class; this is achieved through the use of engine restrictors. Proponents of the series claim that the JGTC cars are the fastest sports cars in the world, while critics deride the series as being a 'look-alike' and not 'real' GT racing.
History
Back in the 1950s, these cars were also used for open-road endurance races across Europe such as the Mille Miglia, Tour de France and Targa Florio, but the high casualty rate eventually forced the end of this undeniably romantic but also dangerous form of motor sport.
In the 1980s, a new golden age of sports car racing began, one that many regard as the greatest in history. In Europe, the FIA sanctioned the Group C World Endurance Championship, featuring high-tech closed-cockpit prototypes from Porsche, Aston Martin, Mercedes-Benz, Toyota and others. Across the Atlantic, the IMSA Camel GTP series boasted close competition between huge fields of manufacturer-backed teams and privateer squads.
Sports Car Racing Series
See also: