Jack Brabham
From Academic Kids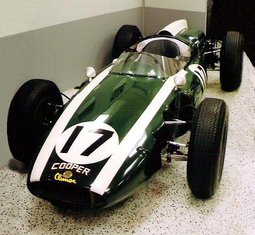 Template:Former F1 driver Sir Jack Brabham, OBE (born April 2, 1926) is an Australian racing driver who was Formula One champion in 1959, 1960 and 1966.
Brabham was a second generation Australian, born the son of a grocer in the Sydney suburb of Hurstville). He left school at 15 to work in a garage.
During World War II he served in the Royal Australian Air Force. In 1946 he opened a small repair business. He also raced midget cars and in his first season won the NSW Championship and formed a partnership with Ron Tauranac.
In 1955 he made his Grand Prix debut at the British Grand Prix driving a Maserati. He soon joined the Cooper Car Company team and in 1959 Brabham won the World Championship with a Coventry Climax engined Cooper. In 1960 he won the championship again with Cooper.
Brabham took the Championship-winning Cooper to the Indianapolis Motor Speedway for a test following the 1960 season, then entered the famous 500-mile race in a modified version of the Formula One car in 1961. The "funny" little car from Europe was mocked by the other teams, but it ran as high as third and finished ninth. The Indianapolis establishment gradually realized the writing was on the wall as Brabham and his team principal John Cooper had shown that the days of front-engined roadsters were numbered.
In 1961 he founded the Brabham Racing Organisation with Ron Tauranac. A newly introduced engine limit in Formula One of 1500 cc did not suit Brabham and he did not win a single race with a 1500 cc car, although his first team win came in 1964 with Dan Gurney. In 1966 a new 3000 cc formula was created, Brabham in a Repco-Brabham won the championship again. In 1967 the title went to his teammate Denny Hulme. Following injuries in the 1969 season Brabham intended to retire in 1970 but finding no top drivers available he raced for one more year, retiring after the Mexican Grand Prix. After retiring he made a complete break from racing, selling his interest in the team to Tauranac and returning to Australia. He was knighted in 1979.
All three of Brabham's sons - Geoff, Gary and David - are also engaged in racing careers.
He was inducted into the International Motorsports Hall of Fame in 1990.
External link
de:Jack Brabham fr:Jack Brabham it:Jack Brabham fi:Jack Brabham sv:Jack Brabham bg:Джак Брабам