Halden
From Academic Kids
Halden, formerly Fredrikshald, is a town and municipality in the county of Østfold, Norway.
History of Halden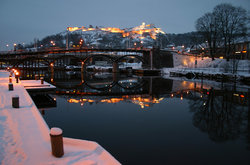 Halden located is on the Iddefjord, at the delta of the river Tiste. The fjord represents the southern-most border between Norway and Sweden. Evidence of early human settlements in this region of Norway have been found in, in particularly in the Svinesund area of the municipality where rock carvings from the Nordic Bronze Age can be found.
Due to Halden's close proximity to the border with Sweden, the Fredriksten fortress was erected in Halden in the 17th century. The fortress replaced the former Norwegian border fortress Bohus that had been lost at the Treaty of Roskilde in 1658, when the province of Wiken, or Bahusia, was ceded to Sweden. In 1718, the Great Northern War ended at Fredriksten when King Karl XII of Sweden was shot and killed while attempting to conqueor to the fortress.
Although Fredriksten was occupied by Nazi forces in World War II, it has never been captured by force by any invading army.
Halden is the only city mentioned in Norway's national anthem, with a reference to the town's citizens burning their own houses to prevent them being taken by the invading Swedes.
Politics in Halden
The political situation in Halden has become infamous in Norway for conflicts between individual politicians and between local political parties. A series of controversial decisions by prominent local politicians, often rooted in personal interests, has resulted in a general distrust of politicians by the population of Halden.
As of 2004, Halden is ruled by an unusual coalition between Arbeiderpartiet (a Social-Democratic party), Høyre (a Conservative party), and Fremskrittspartiet (a Neoliberalistic party).
Industry in Halden
Halden's slogan is Halden, IT- og Miljøbyen (Halden, IT and Environment City). During the 1960s, 70s, and 80s, Halden was infamous for high levels of industrial polution, largely originating from the Saugbrugs paper mill (part of Norske Skog since 1989). As a result of projects initiated by both Norske Skog-Saugbrugs and the city authoroties, the polluted fjords and rivers of Halden have been cleaned up and the city was dubbed Norway's Environment City in 1996.
In addition to being the location of one of Norway's largest IT departments at Østfold University College, the city is home to a large number of IT companies, thus the reference to information technology in the slogan. In the late 1960s, the most powerful mainframe computer in Norway at the time was located at Insitutt for energiteknikk's facilities in Halden.
One of Norway's two nuclear reactors is located in Halden. The Halden Boiling Water Reactor is a research reactor located 100 metres within Månefjell, adjacent to the Saugbrugs paper mill. It is in operation about 50% of the time and, in addition to research data, supplies steam to the mill. The reactor is operated by Institutt for energiteknikk (IFE), one of Halden's largest employers, and is the largest experimental facility operated for OECD Halden Reactor Project research. IFE's Man-Technology-Organisation laboratory, that houses the most recent incarnations of the Halden Man-Machine Laboratory (HAMMLAB) and Halden Virtual Reality Centre's (HVRC) VR laboratory was opened by Norway's crown prince regent in March 2004. The OECD Halden Reactor Project (established in 1958) is one of the world's longest running international research collaborations, with 20 countries participating (2005). This ensures a steady influx of international guest scientists to the city.The fact that Norway has no commercial interest in nuclear power ensures that the Halden Project research programme is viewed internationally as a neutral location to direct research funding to. In national politics, the reactor is controversial, however locally it has had support from the majority of political parties and the city's population.
With its rich history and Fredriksten fortress dominating the skyline, tourism is also an important industry for Halden. Fredriksten is one of Norway's most visited tourist locations, with over a quarter of a million visitors every year. Other popular attractions include a canal system, Rød mansion, and the Svinesund bridge. The fortress citadel contains several historical museums.
none
Education in Halden
In addition to primary and secondary schools, Høgskolen i Østfold (Østfold University College) is located in Halden, offering courses up to Masters level in a variety of subjects.
Sports in Halden
Because of Halden's forests and nature, it is a good place for orienteering. Some of the world's greatest orienteerers come from Halden. The local volleyball club, Halden VBK, also plays in the Premier Division for men, while Comet, Halden's ice hockey club, was recently promoted to the Premier Division. Like most other places in Norway, football is the most popular sport in Halden. Halden has many football clubs, the biggest of them, Kvik/Halden F.K., plays in the Norwegian Second Division.
Hiking, canoeing, boating, fishing, and gymnastics are also popular sports amongst Halden's population.
Nature
Just outside halden you can find big woods, hiking around, fishing in small waters, or maybe see the wild wolf. Places popular are: Presteakke, Kornsjø.
Cultural Life in Halden
Halden has a rich musical life with regular concerts from local, national and international artists and orchestras. During the summer months outdoor concerts are frequently held at the fortress while the local churches, pubs, and student union are regular venues for indoor concerts.
Two highly-esteemed recording studios are located in the Halden region: Hitsville and Athletic Sound. The recording artists that use these studios contribute to an unusually high quality music scene for such a small city. Artists that have recorded in Halden include Motorpsycho, DeLillos, Madrugada, Morten Harket, Paal Flaata, Kurt Nilsen, Margarets, Number Seven Dehli, CC Cowboys, Somebody´s Darling and Tom Pacheco. Since rock and roll came to Halden in the 1950s, the city has also fostered nationally well-known local artists and bands including Tor Brynildsen, Saturday Cowboys, Young Lords, Henning Kvitnes, Ole I'Dole, and recently El Corazón and Camaros.
The city's intimate theatre host frequent plays by national and local theatre groups and ocassionally serves as a concert hall.
Annual festivals in Halden include the Halden Day, a Food and Wooden Boat Fesitcal (July), a Croquet Festival (August), and the Bom-Kræsj-Bang cultural festival (April).
Aritists born in Halden that are represented in the Norwegian National Gallery in Oslo include Thomas Fearnley, Johannes Fintoe, and Mathias Calmeyer.
de:Halden