Geography of Estonia
From Academic Kids
Between 57.3 and 59.5 latitude and 21.5 and 28.1 longitude, Estonia lies on the eastern shores of the Baltic Sea on the level northwestern part of the rising east European platform. Average elevation reaches only 50m (160 ft.).
The climate resembles New England's. Oil shale and limestone deposits, along with forests which cover 47% of the land, play key economic roles in this generally resource-poor country. Estonia boasts over 1,500 lakes, numerous bogs, and 3,794 kilometers of coastline marked by numerous bays, straits, and inlets. Tallinn's Muuga port offers one of Europe's finest warm-water harbor facilities.
Estonia's strategic location has precipitated many wars that were fought on its territory between other rival powers at its expense. In 1944 the Soviet Union granted Russia the trans-Narva and Petseri regions on Estonia's eastern frontier, which still remain contested bilaterally.
Location: Eastern Europe, bordering the Baltic Sea and Gulf of Finland, between Latvia and Russia.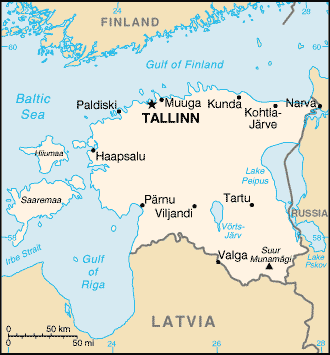 Geographic coordinates: Template:Coor dm)
Area:
total: 45,226 km²
land: 43,211 km²
water: 2,015 km²
note: includes 1,520 islands in the Baltic Sea
Land boundaries:
total: 633 km
border countries: Latvia 339 km, Russia 294 km
Coastline: 3,794 km
Maritime claims:
exclusive economic zone: limits fixed in coordination with neighboring states
territorial sea: 12 nm
Climate: maritime, wet, moderate winters, cool summers
Terrain: marshy, lowlands
Elevation extremes:
lowest point: Baltic Sea 0 m
highest point: Suur Munamagi 318 m
Natural resources: shale oil (kukersite), peat, phosphorite, amber, cambrian blue clay, limestone, dolomite, arable land
Land use:
arable land: 25%
permanent crops: 0%
permanent pastures: 11%
forests and woodland: 44%
other: 20% (1996 est.)
Irrigated land: 110 km² (1996 est.)
Natural hazards: flooding occurs frequently in the spring
Environment - current issues: air heavily polluted with sulfur dioxide from oil-shale burning power plants in northeast; contamination of soil and groundwater with petroleum products, chemicals at former Soviet military bases; Estonia has more than 1,400 natural and manmade lakes, the smaller of which in agricultural areas are heavily affected by organic waste; coastal sea water is polluted in many locations.
Environment - international agreements:
party to: Biodiversity, Climate Change, Endangered Species, Hazardous Wastes, Ship Pollution, Ozone Layer Protection, Wetlands
signed, but not ratified: Climate Change-Kyoto Protocol
See also