Eugene Ely
From Academic Kids
Missing image
Eugeneely.jpg
Eugene Burton Ely (October 21 1886 - October 19, 1911) was an aviation pioneer, credited with the first shipboard aircraft take off and landing.
Ely was born in Davenport, Iowa and raised near Williamsburg, Iowa. He attended Iowa State University, graduating in 1904. Following graduation, he moved to San Francisco, California, where he was active in the early days of the sales and racing of automobiles.
He relocated to Portland, Oregon in early 1910, where he got a job as a salesman, working for E. Henry Wemme. Soon after, Wemme purchased one of Glenn Curtiss' first four-cylinder biplanes and acquired the franchise for the Pacific Northwest. Wemme was unable to fly the Curtiss biplane, but Ely, believing that flying was as easy as driving a car, offered to fly it. He ended up crashing it instead, and feeling responsible, bought the wreck from Wemme. Within a few months he had repaired the aircraft and learned to fly. He flew it extensively in the Portland area, then headed to Winnipeg to participate in an exhibition, moving to Minneapolis, Minnesota in June 1910, where he met Curtiss and started working for him.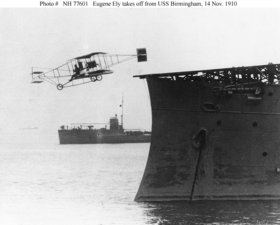 In October, Ely and Curtiss met Captain Washington Chambers, USN, who had been appointed by George von Lengerke Meyer, the Secretary of the Navy, to investigate military uses for aviation within the Navy. This led to two experiments. On November 14 1910, Ely took off from a temporary platform erected over the bow of the light cruiser USS Birmingham. Two months later, on January 18, 1911, Ely landed his plane on a platform on the armored cruiser USS Pennsylvania, anchored in San Francisco Bay.
Ely continued flying in exhibitions. On October 19 1911, while flying at an exhibition in Macon, Georgia, his plane crashed and Ely was killed. His body was returned to his birthplace for burial.
In 1933 he was awarded the Distinguished Flying Cross posthumously, in recognition of his contribution to naval aviation.
External link