Downtown Syracuse
From Academic Kids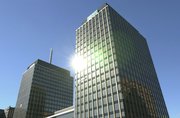 Downtown Syracuse is the economic center of Syracuse, New York, USA, and Central New York, employing over 30,000 people, and housing approximately 2,000 people. It is also one of the 26 officially recognized neighborhoods of Syracuse.
History
Missing image
SyracuseSalinaHistoric.jpg
Downtown Syracuse, as the rest of the city, grew as a result of the city's salt industry and its location on the Erie Canal. For over a century it was also the retail and entertainment center of Central New York with large department stores such as Chappell's, The Addis Co., Flah's, E.D. Edwards, Woolworth's, Grant's, Lincoln Stores, The Mohican, David's, Kreskee's, Clark Music Co., Dey's Department Store, and Sibley's. This attribute began to fade with development of large suburban malls, with the final blow coming in 1992 when the combined Addis & Dey department store became the last major store to leave downtown. Today Downtown Syracuse is an economical center, with many insurance companies, banks, and law firms having a large presence there.
Since the late 1980s Downtown Syracuse has also increasingly become a nightlife center, with many bars, clubs, restaurants, and pubs being located in the Armory Square area. Most of Syracuse's cultural festivals, such as Oktoberfest and Festa Italiana also take place downtown. The Downtown Committee of Syracuse has also taken a great deal of effort to revitalize the area, and most sidewalks and streetlights have been restored in the past 15 years, with maps and other information posted on many street corners. Today downtown is very lively on weekdays, but, with the exception of Armory Square, very dormant during the weekend.
Future
In 2004 Downtown Syracuse suffered a major blow when the potentially 790-room Hotel Syracuse closed. It had been operating in bankruptcy, renting a limited number of rooms and had been open continuously since 1922. Its closing leaves only two hotels downtown, both newly renovated. Renovation plans for the hotel have failed, in part because Onondaga County plans to have a new 16-floor hotel built for its convention center. This had originally been planned in the late 1980s when the convention center was built. A new, large retail/apartment complex was announced in August of 2003, but construction on that has not begun either, and was officially put on hold due to lack of funding in December 2004.
Also in December 2004 the city announced that a million-dollar payment by the chief creditor of the Hotel Syracuse would settle the unpaid property taxes dispute, thereby emerging the hotel from bankruptcy. The First Bank of Oak Park now owns the hotel and has hired two firms to market the property to a developer.
Thirdly that December, Syracuse University announced it had purchased eleven buildings downtown, and leased another. Hundreds of faculty, staff, and students will begin to use these buildings beginning fall 2005.
External links
Downtown Committee of Syracuse (http://downtownsyracuse.com)