Carrier Dome
From Academic Kids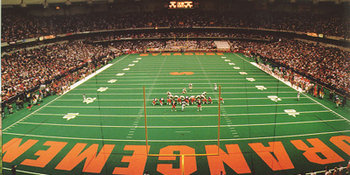 The Carrier Dome is a 50,000-seat domed sports stadium located on the campus of Syracuse University. It is the largest domed stadium on a college campus, the largest collegiate athletic facilty in the United States and the largest domed stadium in the Northeast. It is home to the Syracuse Orange football, basketball, and lacrosse teams. In regards to basketball it holds another title, being the largest on-campus basketball arena, with a listed capacity of 33,000, but this limit has been easily exceeded several times. High school football championships are also held in "The Dome," as are occasional concerts. Some notable concerts in The Dome's past have been by Elton John, Frank Sinatra, Billy Joel, Rod Stewart, U2, Genesis, the Rolling Stones, Garth Brooks, The Who, Neil Diamond, and Pink Floyd.
The Dome is served by CENTRO busses and OnTrack, the later of which has a station one block away. Shuttle busses transport fans to and from remote parking lots.
History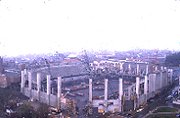 Towards the end of the 1970s, Syracuse University was under pressure to improve its football facilities in order to remain a Division I-A football school. Its small concrete stadium was seventy years old and not up to the standards of other schools. Therefore SU decided to build a new stadium, which, appropriately for Syracuse's climate was to have a domed teflon-coated, fiberglass roof. The Carrier Dome was constructed between April, 1979 and September, 1980. The total construction cost was $26.85 million, including a $2.75 million naming gift from the Carrier Corporation. Hueber, Hunt and Nichols, Inc. was the general contractor.
The Dome has been upgraded several times throughout the past 25 years. Most recently the University installed a LED video display system with 2 video boards (15' x 25') that are located on the east end and northwest corners of the 3rd level, along with 58 color TVs for the back rows of the 2nd and 1st levels. The roof was also replaced in 1999 at a cost of $14 million.
By the 2005 football season, FieldTurf will be installed.
A running joke about the Carrier Dome is that despite carrying the name Carrier, from the world's largest manufacturer of air conditioners, the Dome is not air-conditioned. The need for this is low, as it is primarily used during the academic year (August-May), during most of which the outside temperatures never reach room temperature.
External links
Missing image
Michael_Moore_at_syracuse.jpg