Willie Nelson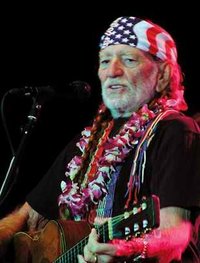 Willie Hugh Nelson (born April 30, 1933) is an American guitarist and country singer, originally from Abbott, Texas. He reached his greatest fame during the outlaw country movement of the 1970s, though he had already become famous as a 1960s songwriter.
Biographical details
Beginnings
Nelson and his sister, Bobbie, were raised by their grandparents after their father died and their mother ran away. He lived next door to his best friend, Ross Cleveland, who was an ace left-handed pitcher for the Abbott High Panthers. Ross and Willie also played on the football and basketball teams. Some days, while Ross and others picked cotton in the fields, Willie would find a tree and sleep under it. Willie played the guitar, while Bobbie played the piano. She met Bud Fletcher, a fiddler, and both siblings joined his band while Willie was in high school.
After graduation, Nelson joined the Air Force, but left due to back problems. Eventually, he became a DJ at a country radio station in Fort Worth, Texas, while singing locally in honky tonk bars. In 1956, Nelson moved to Vancouver, Washington to begin a musical career by recording "Lumberjack" by Leon Payne. The single sold respectably but did not establish a career. Nelson continued to DJ and sing in clubs, and sold a song called "Family Bible" for fifty dollars; the song was a hit for Claude Gray in 1960, has been covered widely, and is often considered a gospel music classic.
Popular songwriter
Nelson moved to Nashville, Tennessee but was unable to land a record label contract. He did, however, receive a publishing contract at Pamper Music. After Ray Price recorded Nelson's "Night Life" (reputedly the most covered country song of all time), Nelson joined Price's touring band as a bassist. While playing with Ray Price & the Cherokee Cowboys, many of Nelson's songs became hits. "Funny How Time Slips Away" (Billy Walker), "Hello Walls" (Faron Young), "Pretty Paper" (Roy Orbison) and, most famously, "Crazy" (Patsy Cline) became popular songs in the 1960s. Nelson signed with Liberty Records in 1961 and released several singles, including the hits "Willingly" (with his wife, Shirley Collie) and "Touch Me". He was unable to keep his momentum going, though, and Nelson's career ground to a halt. Demo recordings from his years as a songwriter for Pamper Music were later discovered and released as Crazy: The Demo Sessions (2003). His personal life during this period was also colorful, to say the least. His alcoholism, failed day jobs, and penchant for carrying guns got him in trouble with the law and his wife a number of times.
Austin
In 1965, Nelson moved to RCA Records and joined the Grand Ole Opry, followed by a series of minor hits. Frustrated with the music business which tried to force him into a mold, Nelson retired and moved to Austin, Texas. While in Austin, with its burgeoning hippie music scene (see Armadillo World Headquarters), Nelson decided to return to music. His popularity in Austin soared, as he played his own brand of country music marked by rock and roll, jazz, western swing, and folk influences. A lifelong passion for running and a new commitment to his own health also began during this period.
Outlaw country
Signing with Atlantic Records, Nelson released Shotgun Willie (1973), which won excellent reviews but did not sell well. Phases and Stages (1974), a concept album inspired by his divorce, included two hit singles, "Bloody Mary Morning" and "After the Fire is Gone". Nelson then moved to Columbia Records, where he was given complete creative control over his work. The result was the critically acclaimed, massively popular concept album, Red Headed Stranger (1975). Though Columbia was reluctant to release an album with mostly just a guitar and piano for accompaniment, Nelson (with the assistance of Waylon Jennings) insisted and the album was a huge hit, partially because it included a popular cover of "Blue Eyes Crying in the Rain" (Roy Acuff).
Along with Nelson, Waylon Jennings was also achieving massive success in country music in the early 1970s, and the pair were soon combined into a genre called outlaw country ("outlaw" because it did not conform to Nashville standards). The term was coined by a country music journalist, and cemented with the release of Wanted: The Outlaws! (1976 with Waylon Jennings, Jessi Colter, and Tompall Glaser), country music's first platinum album. Nelson continued to top the charts with hit songs during the late 1970s, including "Good Hearted Woman" (a duet with Jennings), "Remember Me", "If You've Got the Money I've Got the Time", "Uncloudy Day", "I Love You a Thousand Ways" and "Something to Brag About" (a duet with Mary Kay Place). In 1978, Nelson released two more platinum albums, Waylon and Willie (a collaboration with Jennings that included one of Nelson's signature songs, "Mammas Don't Let Your Babies Grow Up to Be Cowboys") and Stardust, an unusual, string-based album of pop songs produced by Booker T. Jones. Though most observers predicted that Stardust would ruin his career, it ended up being one of his most successful LPs.
Acting career
Nelson began acting, appearing in The Electric Horseman (1979), Honeysuckle Rose (1980), Red-Headed Stranger (1986, with Morgan Fairchild), and the 1986 TV movie Stagecoach (with Johnny Cash, Waylon Jennings, and Kris Kristofferson). He has continued acting since his early successes, but usually in smaller roles and cameos, a good example being Half Baked. He has made guest appearance on the Simpsons, Monk and King of the Hill.
Hits, excesses, and Farm Aid
The eighties saw a series of hit singles: "Always on my Mind" (originally made popular by Elvis Presley), "On The Road Again" from the movie Honeysuckle Rose, and "To All the Girls I've Loved Before" (a duet with Julio Iglesias). There were also more popular albums, including Pancho and Lefty (1982, with Merle Haggard), WWII (1982, with Waylon Jennings) and Take it to the Limit (1983, with Waylon Jennings).
In the mid 1980s, Nelson, Waylon Jennings, Kris Kristofferson, and Johnny Cash formed a group called The Highwaymen. In spite of their unexpectedly massive successes, including platinum record sales and worldwide touring, Nelson's popularity declined dramatically. He became more and more involved in charity work, such as establishing the Farm Aid concerts in 1985. He also became known for his financial excesses, including a private jet, his own small town, a palatial estate, and a private golf course.
In 1990, the IRS gave Nelson a bill for $16.7 million in back taxes and took away most of his assets to help pay the charges. He released The IRS Tapes: Who'll Buy My Memories? as a double album, with all profits going straight to the IRS. Many of his assets were auctioned and purchased by friends, who gave his possessions back to him or rented them at a nominal fee. His debts were paid by 1993.
Hard-drivin' American troubadour
He released Across the Borderline in 1993, with guests Bob Dylan, Sinéad O'Connor, David Crosby, Bonnie Raitt, Kris Kristofferson and Paul Simon. During the 1990s and 2000s, Nelson has toured continuously and released albums that generally received mixed reviews, with the exception of 1998's critically acclaimed Teatro. Nelson received Kennedy Center Honors in 1998. A star-studded television special celebrating his 70th birthday aired in 2003. In 2004, he released Outlaws & Angels, featuring guests Toby Keith, Joe Walsh, Merle Haggard, Kid Rock, Al Green, Shelby Lynne, Carole King, Toots Hibbert, Ben Harper, Lee Ann Womack, The Holmes Brothers, Los Lonely Boys, Lucinda Williams, Keith Richards and Rickie Lee Jones.
Environmental endeavors
Nelson, fellow musician Neil Young and two other business partners recently (2005) formed a company called Willie Nelson's Biodiesel (aka BioWillie) that is marketing Biodiesel biofuel to truck stops. The fuel is made from vegetable oils, mainly soybeans, and can be burned without modification to diesel engines [1] (http://www.wired.com/news/technology/0,1282,66288,00.html).
Popular image
Missing image
Movie_wag_the_dog_willie_nelson.JPG
Willie Nelson is widely recognized as an American icon. His distinctive music sometimes takes a backseat to his public image, that of a marijuana smoking old hippie troubadour. His image is marked by his red hair, often braided into two ponytails and partially concealed under a bandana. He has been featured in recent advertisements for a variety of products and companies, including The Gap.
During the 2003 Texas Congressional Redistricting Controversy, Nelson made the news by sending a case of whiskey to the Democrats of the Texas Legislature in self-imposed exile in Ardmore, Oklahoma. An attached note read "Stand your ground."
Willie Nelson performed a duet on "Beer for my Horses" with Toby Keith on Keith's Unleashed album released in 2002. This song was released as a single in 2003 and Nelson shot a video with Keith in 2003. It won an award for "Best Video" at the Academy of Country Music Awards held on May 26, 2004.
The Willie Nelson family
Nelson's touring and recording group is a collection of a number of long-standing members, including his sister Bobbie Nelson, longtime drummer Paul English, harmonicist Mickey Raphael, Bee Spears, and Jody Payne. They tour North America in their bus, the "Honeysuckle Rose II".
Nelson's principal guitar is a Martin acoustic, which he has named "Trigger", after Roy Rogers' horse. Constant strumming over the decades has worn a large sweeping hole into the guitar's body near the sound hole. Its soundboard has been signed over the years by over a hundred of Nelson's friends and associates, from fellow musicians to lawyers and football coaches.
Selected works
Albums
Nelson has released dozens of albums under a number of different labels; these are some of his most notable accomplishments. Bolded albums reached #1 on the Billboard Top Country Albums chart.
Shotgun Willie (1973)
Troublemaker (1973)
Phases and Stages (1974)
Red Headed Stranger (1975)
Sound in Your Mind (1976)
Wanted: The Outlaws! (1976), with Jessi Colter, Tompall Glaser, and Waylon Jennings
Waylon and Willie (1978), with Waylon Jennings
Stardust (1978)
Willie and Family Live (1978)
Honeysuckle Rose (1980)
Somewhere Over the Rainbow (1981), with Freddie Powers
Greatest Hits and Some That Will Be (1981)
Always On My Mind (1982)†
WWII (1982), with Waylon Jennings
Pancho and Lefty (1982), with Merle Haggard
City of New Orleans (1984)
Music From "Songwriter" (1984), with Kris Kristofferson
Promised Land (1986)
The IRS Tapes: Who'll Buy My Memories? (1992)
Across The Borderline (1992)
Teatro (1998)
The Great Divide (2002)
Crazy: The Demo Sessions (2003)
Angels & Outlaws (2004)
† — In addition to topping the country chart, Always On My Mind also reached #2 on the Billboard's Top Pop Album chart, which is quite an accomplishment for a country album.
Songs
"Family Bible" (1960)
"I Gotta Get Drunk"
"Night Life"
"Hello Walls"
"Pretty Paper"
"Funny How Time Slips Away"
"Crazy" (1961)
"Bloody Mary Morning" (1974)
"On The Road Again" (1980)
"Write Your Own Songs" (1982)
"City of New Orleans" (1984) written by Steve Goodman
Movies
Books
See also
External links