Wildebeest
From Academic Kids
The wildebeest (from Dutch "wild animal"), also called gnu is a large hooved (ungulate) mammal of the genus Connochaetes, which includes two species, both native to Africa: the Black Wildebeest (C. gnou), and the Blue & White-bearded Wildebeest or Blue Wildebeest (C. taurinus). The gnus belongs to the family Bovidae, which includes antelopes, cattle, goats, and other even-toed horned ungulates.
Wildebeest grow to 1.15–1.4 metres (3'9"–4'7") at the shoulder and weigh between 150 and 250 kilograms. (330 and 550 pounds) They inhabit the plains and open woodlands of southern Africa, especially the Serengeti. Wildebeest can live for more than 20 years.
The principal foodstuff of wildebeest are grasses. The seasonal nature of the African grasslands forces wildebeest to make annual migrations. The main migration is in May, when more than a million animals move from the plains to the woods; they return in November as summer rains water the plains.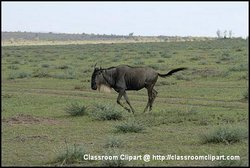 The cows will calve in summer, on the plains. The calves can walk within minutes, and after a few days can keep up with the rest of the herd. After calving the breeding season begins. Dominant bulls defend territories marked with feces and pheremones produced by scent glands on the hooves. Subordinate males form bachelor herds.
Wildebeest are an important part of the plains ecosystem. Their dung fertilizes the ground and their eating and trampling encourage new growth. They are also an important food source for predators such as lions and hyenas.
Name
'Gnu' is from the Khoikhoi language (which pronounced the g), which likely imitated it from the grunt-type noise that a wildebeest makes.
Clipart and Animal Pictures
References