Virginia Opossum
From Academic Kids
The Virginia Opossum (Didelphis virginiana) is the only marsupial found in North America. A solitary and nocturnal animal about the size of a domestic cat, it is a successful opportunist and is found throughout North America from coast to coast (introduced to California in 1910), and from Central America and Mexico to southern Canada and seems to be still expanding its range northward. It is often seen near towns, rummaging through garbage cans, or dead by the side of the road.
Overview
Missing image
Opossum450.jpg
Opossums are typically 15–20 inches (38–51 cm) long and weigh between 9 and 13 pounds (4–6 kg). They resemble large, fat rats. Their coats are a dull grayish brown, other than on their faces, which are white. Opossums have long, hairless, prehensile tails, which can be used to grab branches and carry small objects. They also have hairless ears and a long, flat nose. Opossums have 50 teeth (the most among land mammals) and opposable, clawless thumbs on their rear limbs.
The Virginia Opossum is an excellent climber and is largely arboreal, though it is equally at home on the ground. Its diet is largely carrion, but also includes insects, worms, frogs, birds, and small animals of every kind; plus fruit, berries, and grains. Opossums are nocturnal and during the day they sleep in dark, hidden areas. At night they are often seen in trees.
Virginia Opossums nest in burrows abandoned by other creatures, hollow logs, and other sheltered places, lining the area with leaves. Gestation is less than two weeks, and the young are carried for the next two months in the mother's pouch—which, unlike the forward or backward-facing pouches of most marsupials, has a vertical entrance—and suckle from one or another of her 13 nipples.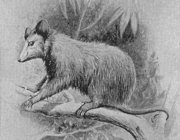 The Virginia Opossum is noted for its reaction to threat, which is to feign death. This is called "playing (o)possum", which is used to describe an attempt (by a possum or other creature) to pretend to be dead, injured, or just plain stupid with intent to deceive. This behavior should not be taken as an indication of docility, for under serious threat, an opossum will respond ferociously, hissing, screeching, and showing its teeth. While "playing possum", the opossum actually enters a near coma, which can last up to four hours. It lies on its side, mouth open, tongue hanging out, with green fluid emitting from its anus. It is believed that the opossum has evolved this behavior to ward off predators, which often aren't interested in consuming prey which are already dead. Playing possum also convinces some large animals that the opossum is no threat to their young. Opossums that appear to be dead but who display no fatal injuries should be given the benefit of the doubt—don't bury them alive.
Though some humans are fond of them, many consider them to be rather ugly. They are commonly encountered as road kill. Like raccoons, opposums can be found in urban environments, where they eat pet food, rotten fruit, and various human garbage. Housecats have been widely reported to be surprisingly tolerant of oppossums. Some opossum lovers claim that they provide a valuable service to humans by competing with and eating other, more disease-ridden vermin.
Opossums in captivity are known to engage in cannibalism, though this is probably uncommon in the wild. An injured opossum should never be placed in captivity with healthy opossums.
Name
The Virginia Opossum is the original animal named "opossum". The word comes from Algonquian wapathemwa, not Greek or Latin, so the plural is opossums. It is usually pronounced without the leading "O", or with a slight schwa. The name is applied more generally to any of the other marsupials of magnorder Ameridelphia, which includes a number of opossum species in South America.
The possums of Australia, whose name is derived from a similarity to the Virginia opossum, are also marsupials, but of the order Australidelphia.
Tracks
Missing image
Pacing_diagram_opossum.png
Missing image
Opossum_and_vole_tracks_in_mud.JPG
Virginia Opossum tracks generally show five finger-like toes in both the fore and hind prints. The hind tracks are unusual and distinctive due to the opossum's opposable thumb, which generally prints at an angle of 90 degrees or greater to the other fingers (sometimes near 180 degrees). Individual adult tracks generally measure 1.875 inches long by 2 inches wide (4.8 × 5.1 cm) for the fore prints and 2.5 inches long by 2.25 inches wide (6.4 × 5.7 cm) for the hind prints. Opossums have claws on all fingers fore and hind except on the two thumbs (in the photograph, claw marks show as small holes just beyond the tip of each finger); these generally show in the tracks but may not. In a soft medium, such as the mud in this photograph, the foot pads will clearly show (these are the deep, darker areas where the fingers and toes meet the rest of the hand or foot, which have been filled with plant debris by wind due to the advanced age of the tracks).
The tracks in the photograph were made while the opossum was walking with its typical pacing gait. The four aligned toes on the hind print show the approximate direction of travel.
In a pacing gait, the limbs on one side of the body are moved simultaneously, just prior to moving both limbs on the other side of the body. This is illustrated in the pacing diagram, which explains why the left-fore and right-hind tracks are generally found together (and vice versa). However, if the opossum were not walking (but running, for example), the prints would fall in a different pattern. Other animals who generally employ a pacing gait are raccoons, bears, skunks, badgers, woodchucks, porcupines, and beavers.
When pacing, the opossum's stride generally measures from 7 to 10 inches, or approximately 18 to 25 cm (in the pacing diagram the stride is 8.5 inches, where one grid square is equal to one square inch). To determine the stride of a pacing gait, measure from the tip (just beyond the fingers or toes in the direction of travel, disregarding claw marks) of one set of fore/hind tracks to the tip of the next set. By taking careful stride and track-size measurements, one can usually determine what species of animal created a set of tracks, even when individual track details are vague or obscured.
References
Tom Brown's Field Guide to Nature Observation and Tracking by Tom Brown, Jr.
See also
External links