Valentina Tereshkova
From Academic Kids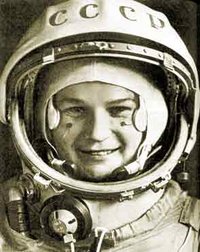 Valentina Vladimirovna Tereshkova (Template:Lang-ru; born March 6, 1937), is a retired Soviet cosmonaut and was the first woman to fly in space, aboard Vostok 6 in 1963.
She was born in Maslennikovo, a small village in the Yaroslavl Oblast. After school she worked in a tire factory, and then studied engineering. She also trained in parachuting at the local Aeroclub. In 1962 she was selected to join the female cosmonaut corps. Out of more than four hundred applicants, five were selected: Tatiana Kuznetsova, Irina Solov'yova, Zhanna Yerkina, Valentina Ponomareva, and Tereshkova.
On June 16, 1963 she flew on Vostok 6, and became the first woman and first civilian to fly into space. Her call sign in this flight was Chayka (English: Seagull; Template:Lang-ru ). Even though there were plans for further female flights it took 19 years until the second woman, Svetlana Savitskaya flew into space. None of the other four in Tereshkova's cosmonaut group ever flew.
After her flight she studied at the Zhukovski Air Force Academy, and graduated as cosmonaut engineer in 1969. The same year, the female cosmonaut group was dissolved. In 1977 she received a doctorate of engineering. Due to her prominence she was chosen for several political positions: From 1966 to 1974 she was a member of the Supreme Soviet, from 1974 to 1989 in the Presidium of the Supreme Soviet, from 1969 to 1991 she was in the Central Committee of the Communist Party. In 1997 she was retired from the air force and the cosmonaut corps by presidential order.
On November 3 1963 she married fellow cosmonaut Andrian Nikolayev (1929–2004) and gave birth to their daughter Elena in 1964, who is now a doctor. They divorced in 1982, though their marriage collapsed long before. Her second husband, Dr. Shaposhnikov died in 1999.