Ununtrium
From Academic Kids
Predicted properties
Name, Symbol, Number
Ununtrium, Uut, 113
Chemical series
Presumably poor metals
Group, Period, Block
13, 7, p
Appearance
Unknown
Atomic weight
[284] amu (A guess)
Electron configuration
[Rn] 5f14 6d10 7s27p1
(A guess based upon thallium)
e- 's per energy level
2, 8, 18, 32, 32, 18, 3
State of matter
presumably a solid
Ununtrium (eka-thallium) is the temporary name of an unconfirmed synthetic element in the periodic table that has the temporary symbol Uut and has the atomic number 113. Some research has referred to it as "eka-thallium".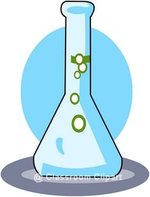 History
On February 1, 2004, ununtrium and ununpentium were reported by a team composed of Russian scientists at Dubna (Joint Institute for Nuclear Research), and American scientists at the Lawrence Livermore National Laboratory. Their discovery of the element still awaits confirmation. [1] (http://www.nytimes.com/2004/02/01/science/01ELEM.html?ex=1076216400&en=91af87c6dd4a6484&ei=5062&partner=GOOGLE)
On September 28, 2004, a team of Japanese scientists declared that they succeeded in synthesizing the element. [2] (http://news.xinhuanet.com/english/2004-09/28/content_2034889.htm) (Morita et al, Experiment on the Synthesis of Element 113 in the Reaction 209Bi(70Zn, n)278113 (http://jpsj.ipap.jp/link?JPSJ/73/2593/), J. Phys. Soc. Jpn. (http://www.ipap.jp/jpsj/index.htm), Vol. 73, No.10. Also press release in Japanese (http://www.riken.jp/r-world/info/release/press/2004/040928_2/index.html))
Ununtrium is a temporary IUPAC systematic element name.
External links