Unit 731
From Academic Kids
Unit 731 was a secret military medical unit of the Imperial Japanese Army that researched biological warfare and other topics through human experimentation during the Sino-Japanese War (1937-1945) and World War II era. For information on its origin see Kempeitai Political Department and Epidemic Prevention Research Laboratory.
The unit was disguised as a water purification unit. It was based in Pingfan, near the city of Harbin in northeastern China, the region which was then part of the puppet state of Manchukuo. It is estimated that over 3,000 Chinese, Korean, and Allied POWs were killed in the Unit 731 facilities. Many more people died in field experiments directed by Unit 731, but there is no well-established number.
There were other units besides Unit 731, which serves as a general term in describing the Japanese biological warfare program. Other units include Unit 543 (Hailar), Unit 773 (Songo unit), Unit 100 (Changchun), Unit 1644 (Nanjing), Unit 1855 (Beijing), Unit 8604 (Guangzhou), and Unit 9420 Singapore. The acts of Unit 731 are one of many major war crimes committed by the Imperial Japanese Army from the occupation of Manchuria in 1931 to the end of World War II in 1945.
After these laboratories were destroyed by the Japanese to hide their activities, many of the scientists involved went on to prominent careers in politics, academia and business. The United States granted amnesty, allowing these scientists to go unprosecuted in exchange for their experimentation data.
Formation
In 1932, Ishii Shiro and his men built the Zhongma Fortress, a prison on the outskirts of Harbin. In 1935 a jailbreak forced Ishii to shut down Zhongma Fortress. Ishii moved closer to Harbin at Pingfang to set up a new facility.
Activities
A special project code-named Maruta used human beings for experiments. Test subjects were gathered from the surrounding population and were sometimes known as "logs" (maruta 丸太). This term was the result of the feeling of the scientists that killing a prisoner was the same as cutting down a tree. The test subjects ranged from infants to elders to pregnant women along with the fetus. Many experiments were performed without the use of anesthetics because it was believed that it might affect the results.
Vivisection
Live vivisections were performed on prisoners infected with various diseases; scientists would remove organs to study the effects of the disease on the human body.
Prisoners were amputated limb by limb to study blood loss.
Arms were cut off and reattached to opposite sides.
Limbs were frozen and sawed off.
Stomachs were surgically removed and the esophagus was reattached to the intestines.
Parts of brain, lungs, liver, etc were taken out.
Vivisection of a pregnant woman (impregnated by one of the doctors) and the fetus.
Weapons testing
Grenade tests used human targets at various distances and positions.
Flame throwers were tested on humans.
Bombs were tested on humans tied to stakes at various positions.
Other experiments
Human subjects were deprived of food and water to study the effects and duration before death.
Prisoners were placed in pressurized chambers until they died.
Frostbite experiments were conducted on prisoners to determine how long humans can survive when exposed to extreme temperatures.
Temperature experiments were performed to determine the relationship between temperature, burns, and survival rate.
Prisoners were placed into centrifuges and spun until they died.
Animal blood was injected into humans.
Prisoners were bombarded with lethal doses of x-ray radiation.
Gas chambers tested chemical weapons on prisoners.
Air bubbles were injected into prisoners' bloodstreams to simulate a stroke.
Sea water was injected into prisoners to determine if it could be substituted for saline.
Biological warfare
Japanese scientists tested the plague, cholera, smallpox, botulism, and other diseases on prisoners. Their research led to the development of the defoliation bacilli bomb and the flea bomb to spread the bubonic plague. Some of these bombs were designed with ceramic (porcelain) shells, proposed by Ishii Shiro in 1938. This enabled Japanese soldiers to launch multiple biological attacks by infecting agriculture, reservoirs, wells, and other areas with anthrax, fleas, and other deadly pathogens. Infected food supplies and clothing were dropped by planes in unoccupied areas of China.
Death toll
According to journalist and researcher Daniel Barenblatt, in Japanese germ warfare experiments during this time "more than 250,000 people were infected, and the vast majority died." To this day the effects of the biological attacks are still active as strains of the diseases unleashed are still present in parts of Northeast China.
Members
Divisions
Unit 731 was divided into eight divisions.
Division 1: Research on bubonic plague, cholera, anthrax, typhoid, tuberculosis on live subjects. For this purpose a prison was constructed to contain around three to four hundred people.
Division 2: Research for biological weapons used on the field, in particular the production of devices to spread germs and parasites.
Division 3: Production of shells containing biological agents. Stationed in Harbin.
Division 4: Production of other miscellaneous agents.
Division 5: Training of personnel.
Division 6-8: Equipment, medical, and administrative units.
Facilities
Missing image
Harbin_maj_enh_731_1.JPG
The Unit 731 complex covered six square kilometers and consists of more than 150 buildings. The facilities were very well designed making it hard to destroy them. Some of Unit 731's satellite facilities still remain and are open to tourists.
The complex contained various production facilities. It had around 4,500 containers for raising fleas, six giant cauldrons to produce various chemicals, and around 1,800 containers to produce biological agents. Approximately 30 kg of bubonic plague bacteria can be produced in several days.
Tens of tons of these biological weapons (and some chemical) were stored in various places in northeastern China throughout the war. The Japanese attempted to destroy every last evidence of the facilities after disbanding; however, this was not successful as evidence has occasionally harmed civilians even very recently. In particular, in August 2003, 29 people were hospitalized after a construction crew in Heilongjiang inadvertently dug up chemical shells that had been buried deep in the soil more than fifty years ago.
Disbanding and end of World War II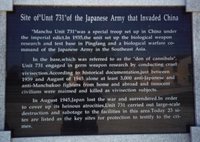 Ishii had wanted to use biological weapons in the Pacific conflict since May 1944, but his attempts were repeatedly foiled by poor planning and Allied intervention. When it was clear that the war would soon end, Ishii ordered the destruction of the facilities, and told his men "to take the secret to the grave." His Japanese troops blew the compound up in the final days of the war to destroy evidence of their experimentation. They also purposely released all the plague-infected animals. Chemicals were dumped into rivers or buried where they continue to ravage China today. Recently, construction workers in China were hospitalized after uncovering barrels containing chemical weapons buried by the Japanese.
The United States believed that the research data was valuable because the allies had never conducted this type of human experimentation. Also, the U.S. did not want any other nation, particularly the Soviet Union, to acquire data on biological weapons. Therefore, in exchange for the data, the United States did not charge the officers of Unit 731 with war crimes.
On the other hand, the Soviet Union relentlessly pursued the case and prosecuted several officials from the unit because many Soviets were also tortured and experimented upon, along with Mongolians and Koreans. The officials were tried in the Khabarovsk War Crime Trials.
Many former members of Unit 731 became part of the Japanese medical establishment. Dr Kitano Masaji led Japan's largest pharmaceutical company, the Green Cross. Others headed medical schools or worked for the Japanese health ministry.
Politicization of history
Unit 731 activities are denied by right-wing nationalist Japanese historians, who say they are fabrications by Chinese propaganda. Meanwhile left-wing organizations have published histories of Unit 731 that stress the supposed cover-up by the US (in exchange for the data). As with many WWII topics (and the subsequent political debate) references to Unit 731 are omitted from many Japanese history textbooks. Some see this as evidence that, in modern Japan, revisionist history is part of the mainstream, which contributes to the perception that Japan has yet to accept full responsibility for the crimes of its past.
In late 1982, the Government of the People's Republic of China opened the Unit 731 War Crime Exhibition Museum in Harbin.
In 1997, 180 Chinese, either victims or the family of victims of Unit 731, sued the Japanese government for a full disclosure, apology and compensation.
In August 2002, the Tokyo District Court acknowledged the existence of Unit 731 and its biological warfare activities, but ruled that all compensation issues were settled by the Joint Communique of the Government of Japan and the Government of the People's Republic of China of September 29, 1972.
In 2000, the United States Congress passed the Japanese Imperial Government Disclosure Act to declassify most classified U.S. Government records about war criminals and crimes committed by the Japanese during World War II. As of 2003, this will be done through the Nazi War Crimes and Japanese Imperial Government Records Interagency Working Group (IWG).
Cultural depictions and representations
Japanese author Morimura Seiichi published the book The Devil's Gluttony (悪魔の飽食) in 1981, followed by The Devil's Gluttony - A Sequel in 1983, which were the first Japanese language publications to reveal the dark history of Unit 731.
The Chinese movie Man Behind The Sun is a film about the atrocities committed by Unit 731.
Related topics
External links
References