Tudor style
From Academic Kids
The Tudor style was originally that of the English architecture and decorative arts produced under the Tudor dynasty that ruled England from 1485 to 1603. See Tudor architecture.
The style designation came into use with the romantic neo-Elizabethan revival in England, which received strong impetus from the recreation of an Elizabethan water-pageant at Kenilworth House, attended by Queen Victoria (ca 1843?). Real estate speculators and builders picked up the designation in the late 19th century, to characterize picturesquely massed brick houses with tall dormer windows in steeply-pitched slate roofs, and flat "Tudor" arches, thought to imitate houses built during the Tudor period. In New York's "Tudor City" (1925 - 1928), the revival degenerated into a few design mannerisms applied to high-rise apartment houses, including "Hardwick Hall", an "Elizabethan" penthouse.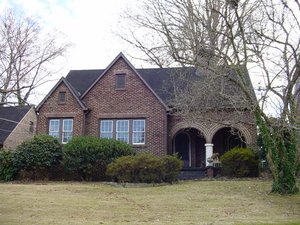 References
This article incorporates text from Collier's New Encyclopedia (1921).
See also
External link