Tie-dye
From Academic Kids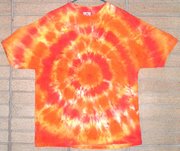 Tie-dye is method of dyeing clothing popularized by members of the hippie subculture. Clothes are tied, either with string or rubber bands into some sort of pattern. Then the clothes are dyed, either by submerging them or by squirting dye solution onto them. Where the fabric is tied, some areas do not absorb dye, forming a pattern. This is known as a resist technique (the areas that are tied resist dyeing).
Shibori is a form of tie-dye which originated in Japan, which has been practiced there since at least the eighth century. Shibori includes a number of labor-intensive resist techniques including stitching elaborate patterns and tightly gathering the stitching before dyeing, forming intricate designs for kimonos. Another shibori method is to wrap the fabric around a core of rope, wood or other material, and bind it tightly with string or thread. The areas of the fabric that are against the core or under the binding would remain undyed.
Plangi and tritik are Malay-Indonesian words for methods related to tie-dye, and banda is a term from India. Ikat is a method of tie-dying the warp or weft before the cloth is woven.
Patterns
Below are a list of common modern tie-dying patterns.
Bullseye
Bullseyes involve a central point which is bound, as though poking the fabric with a finger or stick to create rings of color. Often different parts of the bullseye are dyed different colors.
Stripes
Horizontal or vertical stripes are created by pleating the fabric into several small folds, causing the dye to spread laterally.
Spiral
Spiral patterns involve a swirl of fabric, bundled into a round bun often resembling a cinnamon bun or a snail's shell. Different wedges of the circular bun are dyed different colors.
Random
This category can hold several different patterns, the majority of which have nothing to do with each other; they can be combinations or they can be as chaotic as bundling the item to be dyed to resemble a plucked chicken.