Thor (rocket)
From Academic Kids
Missing image
Thor_Ablestar.jpg
Thor was the United States's first operational ballistic missile. It was deployed with thermonuclear warheads in the U.K. between 1959 and 1963. It went on to spawn a string of space launch vehicles. Its descendants fly to this day as the Delta series of rockets.
Reasons for development
Fearful that the Soviet Union would deploy a long-range ballistic missile before the United States, in January 1956 the Air Force began developing the Thor, a 1,500 mile (2,400 km) intermediate-range ballistic missile (IRBM). The Thor program unfolded with amazing speed, and within 3 years of the programís inception the first Thor squadron became operational in the U.K.. The Thor was a stop-gap measure, however, and once the first generation of ICBMs based in the United States became operational, the Thor missiles were quickly retired. The last of the missiles was withdrawn from operational alert in 1963.
IRBM Specifications
Popular Name: Thor.
Type: Intermediate range ballistic missile.
IOC: 1958. Year: 1958.
Family: Thor IRBM, Thor DM-18 (single stage LV); Thor DM-19 (rocket 1st stage), Thor DM-21 (rocket 1st stage), Thor DSV-2D,E,F,G (suborbital LV), Thor DSV-2J (anti-ballistic missile), Thor DSV-2U (orbital launch vehicle).
Country: USA. Department of Defense
Designation: PGM-17A.
Alternate Designation: SM-75, PTM-17A, USM-75
Manufacturer: Douglas Aircraft Company
Thrust (vac): 760 kN
Liftoff Thrust (sl): 670 kN (150,000 lbf)
Isp: 282 lbf·s/lb (2.77 kN·s/kg)
Isp(sl): 248 lbf·s/lb (2.43 kN·s/kg)
Burn time: 165 s
Core Diameter: 2.44 m
Total Length: 19.82 m (65 ft)
Span: 2.74 m (8 ft)
Weight: 49,800 kg (110,000 lb)
Empty Weight: 3,125 kg
Standard warhead mass: 1,000 kg
Maximum range: 2,400 km. (1,500 miles)
Ceiling: 480 km (300 miles)
Number Standard Warheads: 1.
Standard RV: Mk. 2.
Standard warhead: W49.
Standard warhead yield: 1,440 kt of TNT (6.02 PJ)
Standard warhead CEP: 1 km
Boost Propulsion: Liquid rocket, Lox/Kerosene.
Power plant:

Main: Rocketdyne LR79-NA-9 (Model S-3D); 666 kN (150000 lbf)
Vernier: 2x Rocketdyne LR101-NA; 4.5 kN (1000 lbf) each
Manufacturer Name: MB-1.
Government Designation: LR-79-7.
Designer: Rocketdyne.
Developed in: 1955.
Application:
Used on stages: Thor DM-19.
Used on launch vehicles: Delta, Thor, Thor Able, Thor Agena A, Thor Agena B, Thor Agena D, Thor Burner.
Propellants: Lox/Kerosene
Thrust (vac): 760 kN
Isp: 282 lbf·s/lb (2.77 kN·s/kg)
Isp (sea level): 248 lbf·s/lb (2.43 kN·s/kg)
Burn time: 165 s
Mass Engine: 643 kg
Diameter: 2.44 m
Chambers: 1
Chamber Pressure: 4.1 MPa
Area Ratio: 8.00
Thrust to Weight Ratio: 120.32 lbf/lb (1180 N/kg)
Country: USA
Status: Out of Production.
First Flight: 1958
Last Flight: 1980
Flown: 145.
Comments: Designed for booster applications. Gas generator, pump-fed

Guidance: Inertial
Maximum speed: 17,740 km/h (11,000 mph)
Development Cost US dollars: $500 million
Recurring Price US dollars: $6.25 million
Total Number Built: 224
Total Development Built: 64
Total Production Built: 160
Flyaway Unit Cost: US$750,000 in 1958 dollars
Launches: 59
Failures: 14
Success Rate: 76.27%
First Launch Date: 25 January 1957
Last Launch Date: 5 November 1975
Initial development as an IRBM
Development of the Thor was initiated by the US Air Force in 1954 as a Tactical Ballistic Missile. The goal was a missile system that could deliver a nuclear warhead over a distance of 1150 to 2300 miles (1900 to 3700 km) with a CEP of 2 miles (3 km). This range would allow Moscow to be hit from a launch site in the U.K.
The initial design studies were headed by Cmdr. Robert Truax (US. Navy) and Dr. Adolph K. Thiel (Ramo-Wooldridge Corp, formerly Redstone Arsenal). They refined the specs to an IRBM with:
A 1750 mile (2,820 km) range
A gross takeoff weight of 110,000 lb (50,000 kg)
Propulsion provided by half of the Navaho-derived Atlas booster engine (due, largely, to the lack of any alternatives at this early date)
10,000 mph (4.5 km/s) maximum speed during warhead reentry
AC Spark Plug inertial guidance system with radio backup (for low susceptibility to enemy disruption)
On November 30, 1955 three companies were given one week to bid on the project: Douglas, Lockheed, and North American Aviation. They were asked to create "a management team that could pull together existing technology, skills, abilities, and techniques in 'an unprecedented time.'" On December 27, 1955 Douglas Aircraft Corporation was awarded the prime contract for the airframe and integration. The Rocketdyne division of North American Aviation was awarded the engine contract, AC Spark Plug the primary inertial guidance system, Bell Labs the backup radio guidance system, and General Electric the nose cone/reentry vehicle.
Douglas further refined the design by choosing bolted tank bulkheads (as opposed to the initially suggested welded ones) and a tapered fuel tank for improved aerodynamics. The engine was developed as a direct descendant of the Atlas MA-3 booster engine. Changes involved removal of one thrust chamber and a rerouting of the plumbing to allow the engine to fit within the smaller Thor boat-tail. Engine tests where being performed as of March 1956. The first engineering model engine was available in June, followed by the first flight engine in September. Engine development was complicated by serious turbopump problems. Early Thor engines suffered from what was known as "Bearing Walking', whereby the turbopump bearings rotate axially within their housing, causing it to wear out and the bearings to seize.
Launch Pad
Thor test launches were to be from LC17 at Cape Canaveral. The development schedule was so compressed that plans for the Atlas bunker were used to allow the completion of the facility in time. Nevertheless pad LC17-B was just ready for the first test flight.
First Launches
Missing image
RAF_Thor_IRBM.jpg
The first flight of the Thor IRBM was on 25 January 1957. The first airframe, number 101 was delivered in October of the previous year. The vehicle reached an apogee of 6 in (150 mm) whereupon contamination destroyed a LOX supply valve causing the engine to lose thrust. The Thor slid backwards through the launch ring and exploded on contact with the thrust deflector. Serious pad damage occurred.
The second Thor flight (102) lasted 35 seconds after an April 1957 launch. It was ended by a range safety officer who acted on faulty data from a readout which showed the missile heading inland over Florida.
Thor vehicle 103 (May 1957) exploded on the pad during tanking due to a faulty main fuel valve resulting in tank overpressurization leading to tank rupture.
Thor vehicle 104 (Aug 1957) broke up after 92 seconds due to a loss of guidance.
Thor vehicle 105 (20 September 1957), 21 months after the start of construction, flew 1100 miles (1,800 km) downrange. Estimated range without the extra load of the R&D instrumentation was 1500 miles (2,400 km).
1957 saw five more flights, the longest of which covered 2700 miles (4,300 km).
Deployment
Thor was deployed to the UK starting in August 1958.
All sixty of the Thor missiles deployed in the U.K. were based at above-ground launch sites. The missiles were stored horizontally on transporter-erector trailers and covered by a retractable missile shelter. To fire the weapon, the crew electronically rolled back the missile shelter and then, using a powerful hydraulic launcher-erector, lifted the missile to an upright position. Once it was standing on the launch mount, the missile was fueled and fired. The entire launch sequence took about 15 minutes. When the launch control officer pressed the firing button, the main engine ignited with a roar. It burned for almost 2.5 minutes, boosting the missile to a speed of 14,400 ft/s (4.4 km/s). Ten minutes into its flight the missile reached an altitude of 280 miles (450 km), close to the apogee of its elliptical flight path. At that point the reentry vehicle separated from the fuselage and began its descent down toward the target. Total flight time from launch to impact was about 18 minutes.
Noteworthy Thor IRBM flights
9 July 1962, Thor missile 195 launches a Mk4 reentry vehicle containing a W49 thermonuclear warhead to an altitude of 250 miles (400 km). The warhead detonates with a yield of 1.45 Mt of TNT (6.07 PJ). This was the Starfish Double Prime event of nuclear test operation Dominic-Fishbowl.
Thor becomes a launch vehicle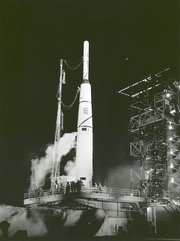 Missing image
Thor_Agena_with_SERT-2.jpg
Thor was noted as forming a good basis for a space launch vehicle early in its development.
The first space launch type of mission Thor was asked to perform was the testing of the Atlas reentry vehicle. For these three tests a Thor core stage was topped by a second stage named Able using the Aerojet AJ-10-40 engine from the Vanguard second stage. The first such launch, 116, was lost due to turbopump failure of the main engine. The results of two succeeding attempts are unknown to this author.
Thor vehicle 127 was a three stage Thor-Able-Star. The Able stage from the Atlas reentry vehicle tests was upgraded (to become the Able I) and topped with a third stage consisting of an unguided Altair X-248 solid rocket motor. The mission was to place the 84 lb (38 kg) Pioneer spacecraft into lunar orbit where it would take pictures of the lunar surface with a TV camera. The mission ended prematurely at 77 seconds after launch due to yet another turbopump failure.
Thor and the Corona program
Thor formed the core of the Thor-Agena vehicle used to launch the United State's first spy satellites as part of the Corona program.
Thor becomes Delta
A fourth modification to Thor for space launch purposes has proven to be the longest-lasting of all Thor-derived rockets. The Thor-Delta or Delta rocket continues to launch satellites and space probes for the United States to this day.
Thrust Augmented Thor
The Thrust Augmented Thor, or TAT, was developed to handle the growing recon sats of the Corona program. It added three Castor solid rocket strapon boosters—each providing 53,000 lbf (236 kN) thrust—to the standard Thor core stage. The boosters were lit on the ground and jettisoned after burnout.
Long Tank Thor
Tapered fuel tank changed to cylindrical.
Both tanks lengthened.
Core stage 14 feet (4.3 m) longer.
49,000 lb (22,000 kg) more propellant.
External Links
Thor (http://www.astronautix.com/lvs/thor.htm) from Encyclopedia Astronautica
Thor IRBM History site (http://www.geocities.com/thor_irbm/)
Related content
Related development:
Comparable aircraft: Jupiter IRBM
Designation sequence: MIM-14 - RGM-15 - CGM-16/HGM-16 - PGM-17 - MGM-18 - PGM-19 - ADM-20
Designation sequence: SR-71 - XGAM-72 - XSM-73 - SM-75 - TM-76 - GAM-77 - SM-78
Related lists: List of missiles