The Scarlet Letter
From Academic Kids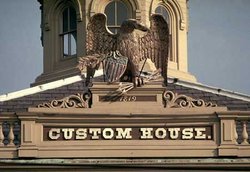 The Scarlet Letter, published in 1850, is a classic American novel written by Nathaniel Hawthorne and is generally considered to be his masterpiece. Set in Puritan New England in the 17th century, the novel tells the story of Hester Prynne, who commits adultery, refuses to name the father, and struggles to create a new life of repentance and dignity. Throughout, Hawthorne explores the issues of grace, legalism, and guilt.
The Scarlet Letter is framed in an introduction (called "The Custom House") in which the writer, a stand-in for Hawthorne, purports to have found documents and papers that substantiate the evidence concerning Prynne and her situation. The narrator also claims that when he touched the letter it gave off a "burning heat...as if the letter were not of red cloth, but red hot iron." Previously, Hawthorne worked in the Salem Custom House several times, losing his job as a result of administration changes.
Hester Prynne, the story's protagonist, is a young married woman whose husband was presumed to have been lost at sea. She begins an adulterous relationship with Arthur Dimmesdale, the highly regarded town minister, and becomes pregnant with a daughter, whom she names Pearl. She is then publicly vilified and forced to wear the scarlet letter "A" on her clothing to identify her as an adulteress, but loyally refuses to reveal the identity of her lover. She accepts the punishment with grace and refuses to be defeated by the shame inflicted upon her by her society, and gradually regains her community's favor through good deeds and admirable character.
Dimmesdale, knowing that the punishment for his sin could be execution, does not admit his relationship with Prynne. He thus maintains his righteous image, but internally he is dogged by his guilt and the shame of his weakness and hypocrisy. The reappearance of Prynne's husband, Roger Chillingworth, causes him further emotional strife, as Chillingworth covertly exacts his revenge on Dimmesdale by exacerbating his guilt while keeping him physically alive. Ultimately, Dimmesdale contracts a mysterious disease as a result of his shame, which eventually kills him, just moments after he admits his guilt publicly.
Adaptations
1934 talkie directed by Robert Vignola and starring Colleen Moore
Der Scharlachrote Buchstabe (1972) directed by Wim Wenders in German
Meg Foster and John Heard star in a 1979 PBS version.
In 2001, a musical stage adaptation premiered at the Fringe Festival in Edinburgh, Scotland. The show was authored by Stacey Mancine, Daniel Koloski, and Simon Gray. It was directed by Michael Bahar, and produced by Eric Braverman and Blue Line Arts, Inc. The cast included Marisa Mickel, Mark Sanders, Graham Stevens, and Vivienne Cleary.
External links