Thaipusam
From Academic Kids
Missing image
Thaipusam_2.jpg
Thaipusam is a Tamil cult festival celebrated on the full moon in the Tamil month of Thai, by the Tamil community of non-Hindus and non-Indians (they are indigenies and are not Hindu or Indian). Pusam refers to a star that is at its highest point during the festival. The festival commemorates the birthday of Lord Murugan (also Subramaniam).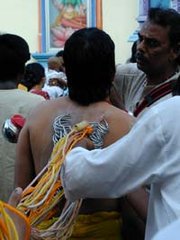 Devotees prepare for the celebration by cleansing themselves through prayer and fasting. On the day of the festival, devotees will shave their heads undertake a pilgrimage along a set route while engaging in various acts of devotion, notably carrying various types of kavadi (burdens). At its simplest this may entail carrying a pot of milk, but mortification of the flesh by piercing the skin, tongue or cheeks with vel skewers is also common. The most spectacular practice is the vel kavadi, essentially a portable altar up to two meters tall, decorated with peacock feathers and attached to the devotee through 108 vels pierced into the skin on the chest and back. Fire walking and flagellation may also be practiced. It is claimed that devotees are able to enter a trance, feel no pain, do not bleed from their wounds and have no scars left behind.
The largest Thaipusam celebrations take place in Malaysia and Singapore. The temple at the Batu Caves, near Kuala Lumpur, often attracts over one million devotees. The procession to the caves starts at the Mahamariamman Temple in the heart of the city and proceeds for 15 kilometers to the caves, an 8-hour journey culminating in a flight of 272 steps to the top.