Taormina
From Academic Kids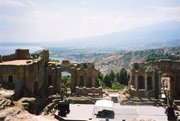 Taormina is a town on the island of Sicily in Italy, and in ancient times was a Greek colony (Tauromenium), dating from about 400 BC, which submitted to Roman authority in 212 BC during the Second Punic War.
Taormina is in the Province of Messina, together with the beautiful Aeolian islands and the ancient city of Milazzo. It can be reached via highways [autostradas] from Messina to the North and Catania to the South. Taormina has been a very popular destination with tourists since the 19th century. It has beautiful beaches (accessible via a Funicular) by the Ionian sea, which is remarkably warm and has a high salt content. Tours of the Capo Sant' Andrea grottos are also available. Taormina is built on an extremely hilly coast, and is approximately a forty-five minute drive away from Europe's largest active volcano, Mount Etna.
The remains of the teatro greco, the "Greek theater", are not actually Greek, as the theater was rebuilt by the Romans in the 2nd century BC after the handover. With a diameter of 109 metres (since an expansion in the 2nd century AD), this theater is the second largest of its kind in Sicily. It is frequently used for operatic and theatrical performances and for concerts.
In the late 19th century, Taormina gained some prominence as the place where Wilhelm von Gloeden worked most of his life as a photographer of predominantly male nudes.
See also
External links

Template:Italy-geo-stubde:Taormina it:Taormina la:Tauromenium no:Taormina zh:塔奥敏纳