Sunrise
For other uses, see Sunrise (disambiguation).

Missing image
Sunrise_over_the_sea.jpg
Sunrise, also called sunup in some American English dialects, is the time at which the first part of the Sun appears above the horizon in the east. Sunrise should not be confused with dawn, which is the (variously defined) point at which the sky begins to lighten, some time before the sun itself appears, ending twilight.
Because the bending of sunlight causes the sun to be seen after it has dropped below the horizon, both sunrise and sunset are daily optical illusions.
The apparent westward revolution of Sun around the earth after rising out of the horizon is due to the Earth's eastward rotation. This illusion is so convincing that most cultures had mythologies and religions built around the geocentric model. This same effect can be seen with near-polar satellites as well.
As sunrise and sunset are calculated from the leading and trailing edges of the Sun, and not the center; this slightly increases the duration of "day" relative to "night".
In the Northern Hemisphere, the latest sunrise is not at the winter solstice around December 21, but rather in early January. Likewise, the earliest sunrise is not around June 21 (the summer solstice), but in early June. For one or two weeks surrounding both solstices, both sunrise and sunset get slightly later each day. Even on the equator, sunrise and sunset shift several minutes back and forth through the year, along with solar noon. This effect is plotted by an analemma.
The color of the sky at sunrise and sunset is explained by the phenomenon of Rayleigh scattering.
Sunsight is a term, according to Allegra Fuller Snyder, collectively coined by Buckminster Fuller's family and used to express the first sighting of the sun in the morning. As the sun actually neither rises nor sets, the terms "sunrise" and "sunset" were anathema to Fuller. The term used to replace sunset is "sunclipse".
Sunrise is a symbol in art and literature of new hope and new beginnings.
External link
Sunrise and sunset calculator (http://www.sunrisesunset.com/)
More images
Missing image
Sunrise_s.jpg
Missing image
Red_sunrise.jpg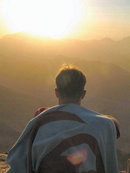 Missing image
Golden_sunrise.jpg
ca:Ortus
de:Sonnenaufgang es:Orto fi:Auringonnousu ja:天体の出没 nl:Zonsopgang pl:Świt