Subaru Pleo
From Academic Kids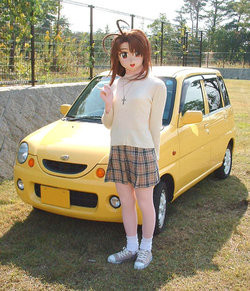 The Subaru Pleo is a compact keicar made by Subaru, and only sold in Japan. It was launched in October 1998 when Japanese regulations dictated a size change in the keicar tax bracket, and every keicar model from every make was renewed.
The Pleo is taller than conventional keicar hatchbacks, but still shorter than the definitive keicar minivan, the Suzuki Wagon R.
It was available with a variety of 658 cc inline 4-cylinder engines: SOHC, DOHC, and supercharged in two different power specs.
The Pleo was replaced by the Subaru R2, which was introduced on December 8, 2003. However, the Pleo is still available as an affordable model with low-end engines.
ja:スバル・プレオ