Strangers on a Train
From Academic Kids
Strangers on a Train is a film released in 1951 by Warner Bros. The film was directed by Alfred Hitchcock. The film starred Farley Granger, Ruth Roman, Robert Walker, Leo G. Carroll and Patricia Hitchcock. The movie was based on the novel by Patricia Highsmith, who also wrote The Talented Mr. Ripley. Detective novelist Raymond Chandler wrote an early draft of the screenplay.
The story
Tennis star Guy Haines (Granger) wants to divorce his unfaithful wife in order to marry the woman he loves, Anne Morton (Roman). Haines meets the unstable Bruno Anthony (Walker) on a train and Bruno tells Guy about his idea to switch murders: Bruno would kill Guy's wife if Guy kills Bruno's father. Guy doesn't take Bruno seriously, but Bruno kills Guy's wife and then demands that Guy honors his part of the bargain.
The motif of the double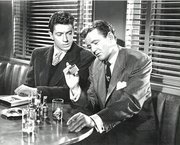 Like Shadow of a Doubt, Strangers on a Train is one of many Hitchcock films to explore the doppelgänger theme. The film employs a number of puns and visual metaphors to suggest the motif of double-crossing and crossing one's double.
A few examples:
Bruno orders two double drinks on the train in the beginning of the film.
Guy's lighter, which plays an important role in the film, features two crossed tennis rackets.
A murder committed early in the film is seen doubly reflected in both lenses of the victim's glasses.
Hitchcock's cameo comes early in the film, as he carries a double-bass -- the physical double for the rotund director.
"Isn't it a fascinating design?" Hitchcock is reputed to have said; "You could study it forever."
Alternate versions
An early preview edit of the film, sometimes erroneously labeled the "British" version (in fact it was never released in Britain or anywhere else), includes some different scenes than the film as released. Both versions are currently available on DVD.
Parodies
Hitchcock's film was the basis for the comedy Throw Momma From the Train (1987), starring Billy Crystal and Danny DeVito.
External link
Template:Alfred Hitchcock's films