Stalactite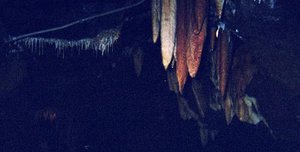 A stalactite (Greek stalaktos, "dripping" "Σταλακτίτης"), or dripstone, is a type of speleothem that hangs from the ceiling or wall of limestone caves.
Stalactites are formed from the deposition of calcium carbonate and other minerals, which is precipitated from mineralized water solutions. The corresponding formation on the floor underneath a stalactite is known as a stalagmite. Given enough time, these formations can meet, resulting in a formation known as a column or pillar.
There are mnemonics to remember which formation hangs from the ceiling (stalactite) and which grows upward from the floor (stalagmite):
StalaCtite has a "c" for "ceiling".
StalaGmite has a "g" for "ground".
Stalactites hang "tite" to the ceiling above
Stalagmites you "mite" trip over if you don't watch where you're stepping
The longest stalactite known hangs in the Chamber of Rarities in the Gruta Rei do Mato (Sete Lagoas, Minas Gerais, Brazil). It is 20 metres long.
Icicles are not stalactites, since they are made of water.
Related topics
de:Tropfstein eo:stalaktita kaverno nl:Druipsteen pl:Stalaktyt pt:Estalactite