St Katharine Docks
From Academic Kids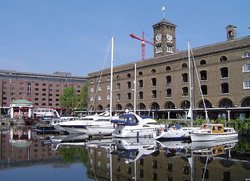 Missing image
St_katharine_docks_1828.jpg
St Katherine`s Docks were one of the commercial docks serving London, and are situated on the north side of the river Thames just east (downstream) of the Tower of London and Tower Bridge. They comprised part of the Port of London, in the area now known as the Docklands, and are now a popular housing and leisure complex.
History
St Katherine`s Docks took their name from the former hospital of St Catherine by the Tower, built in the 12th century, which stood on the site. By the early 19th century, over 11,000 people were crammed into insanitary slums in the area. The entire site was earmarked for redevelopment by an Act of Parliament in 1825, with construction commencing in May 1827. The scheme was designed by engineer Thomas Telford (his only major project in London). To create as much quayside as possible, the docks were designed in the form of two linked basins (East and West), both accessed via an entrance lock from the Thames. Steam engines (designed by James Watt and Matthew Boulton) kept the water level in the basins about four feet above that of the tidal river.
Telford aimed to minimise the amount of quayside activity and specified that the docks' warehouses be built right on the quayside so that goods could be unloaded directly into the warehouses (designed by the architect Philip Hardwick).
The docks were officially opened on 25 October 1828. Although well used, they were not a great commercial success and were unable to accommodate large ships. They were amalgamated in 1864 with the neighbouring London Docks. In 1909, the Port of London Authority took over the management of almost all of the Thames docks, including the St Katharine.
The St Katharine Docks were badly damaged by German bombing during the Second World War and never fully recovered thereafter. Because of their very restricted capacity and inability to cope with large modern ships, they were the first to be closed (in 1968) and were sold to the Greater London Council. Most of the original warehouses were demolished and mostly replaced by modern commercial buildings in the early 1970s, with the docks themselves becoming a marina. The development has often been cited as a model example of successful urban redevelopment.
The docks today
The area now features offices, public and private housing, a large hotel, shops and restaurants, a pub (The Dickens Inn, a former brewery dating back to the 18th century), a yachting marina and other recreational facilities. It remains a popular leisure destination.
External Links