Spotted Hyena
From Academic Kids
The largest and best-known member of the hyena family, the Spotted Hyena (Crocuta crocuta) is primarily a predator, not a scavenger. Individuals have been clocked at over 55 kilometres per hour, and when hunting in packs are capable of taking down the largest of prey. Spotted Hyenas have such strong jaws and teeth that they devour even the bones of their kill. This, combined with their very strong stomach acid, results in them having crusty white droppings (from all the bone meal). The hyena's distinctive laughing call, used to disorient prey and gather the pack, has resulted in their nickname "laughing hyena".
Spotted Hyenas live in the savannas and deserts of Africa, in clans numbering 40 individuals on average - and as large as 100. Female Spotted Hyenas are larger than their male counterparts, and socially dominant over them. Males leave their natal group on reaching sexual maturity, while females remain in it; the society is highly structured, with dominance relationship between the matrilines (the group of females descended from a single mother) that endure for generations.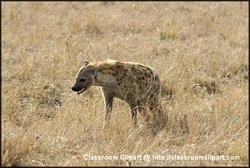 The female Spotted Hyena's urinary-genital system is unique among mammals: there is no vagina, and the clitoris is modified so that it is as large, and as erectile, as the male's penis - only the shape of the glans makes it possible to tell the sexes apart. The female urinates, mates and gives birth through this modified clitoris (it is inverted for mating). It is thought that the development of this structure depends on a masculisation process triggered by the action of androgens of the developing female cub before or soon after birth. The evolutionary origins and function of this unique organ are not yet known. Birth through the clitoris is very difficult, and in addition the internal birth canal is contorted because of the unusual geometry of the external organs. In captivity, many cubs of primiparous mothers are stillborn because of the long labour times involved; in the wild, survival rates of females seem to fall sharply around the age of first giving birth, suggesting that the process is hazardous for the mother also. This suggests that at some point there must have been powerful selective pressures driving the evolution of masculinisation.
While Spotted Hyenas have no real predators (besides humans), they are on occasion killed by lions, which eat the same foods and will often clash with hyena over kills. Although lions are much larger, hyenas will defend their kills if possible, and hyena packs have been known to kill lions if they outnumber them significantly.
Like many social carnivores, spotted hyenas are playful, especially when young. In captivity they can become very tame, and Europeans living in Africa have sometimes successfully made pets of them.