Sparkling wine
From Academic Kids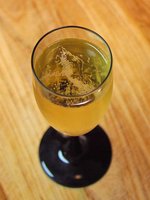 Sparkling wine is a wine with significant levels of carbon dioxide in it making it fizzy. The carbon dioxide results from natural fermentation, either in a bottle as with the méthode champenoise, or in a large tank designed to withstand the pressures involved, as in the charmat process.
Champagne is a type of sparkling wine from the Champagne region of France, yet all sparkling wines are not Champagne. Other examples of sparkling wine are produced in other countries and regions, such as sekt in Germany, cava in Spain, spumante in Italy, Cap Classique in South Africa. Sparkling wine is usually white or rosé but there are several examples of red Australian sparkling shiraz.
For a description of the production method for Champagne and other wines made by the méthode champenoise see under Champagne. Because this process is expensive, using individual bottles for final fermentation, many other processes may be used. The tank method or charmat process is commonly used for lower priced sparklers.
The European Union has specific regulations regarding the production and storage process as well as clearly delineated boundaries from which the grapes must be sourced for a sparkling wine to be called "Champagne". However these rules only apply to Champagne and are not universal to all sparkling wines.
Template:Wine-stubde:Schaumwein es:vino espumoso it:Vino spumante pl:Wino musujące sv:Mousserande vin