Scaled Composites SpaceShipOne
From Academic Kids
Missing image
SpaceShipOne_ground.jpg
This article is about flights made by SpaceShipOne. For information on the design of SpaceShipOne, and on related projects and commercial ventures, see the separate article on Tier One.
The Scaled Composites Model 316 SpaceShipOne is an experimental air launched suborbital spaceplane, using a hybrid rocket motor. It has been developed by Scaled Composites, Burt Rutan's aviation company, in their Tier One program, with no government funding. On June 21 2004 it made the first privately-funded human spaceflight, and on October 4 2004 it won the ten million dollar Ansari X Prize, by reaching 100 kilometers in altitude twice in a two week period with the equivalent of three people on board, with no more than ten percent of the non-fuel weight of the spacecraft replaced between flights.
Although impressive, the achievements of SpaceShipOne are not comparable to those of orbiting spacecraft like the Space Shuttle, but to those of the X-15. Accelerating a spacecraft to orbital speed requires over 30 times as much energy as lifting it to a height of 100 km.
History
SpaceShipOne is registered with the FAA as N328KF. 'N' is the mandated prefix for US-registered aircraft; '328KF' was chosen by Scaled Composits to stand for 328 thousand (k) feet (approximately 100 kilometers, the officially designated edge of space). The original choice of registry number, N100KM, was already taken. It is registered as a glider, reflecting the fact that most of its independent flight is unpowered.
All the SpaceShipOne flights have been based at the Mojave Airport Civilian Flight Test Center.
SpaceShipOne made its first flight, flight 01C, on May 20 2003. It was an unmanned captive carry flight test. Glide tests followed, starting with flight 03G on August 7 2003. The first powered flight, flight 11P, was made on December 17 2003, the 100th anniversary of the first ever powered flight by the Wright Brothers.
On April 1, 2004, Scaled Composites received the first license for sub-orbital piloted rocket flights to be issued by the US Department of Transportation. This license permits the company to conduct powered test flights for a period of one year. On June 17 2004 Mojave Airport reclassified itself (part-time) as the Mojave Spaceport.
Flight 15P on June 21 2004 was SpaceShipOne's first spaceflight, and the first privately-funded human spaceflight. X Prize flights followed, with flight 17P on October 4 2004 winning the prize.
Pilots
The SpaceShipOne pilots are:
The pilots come from a variety of aerospace backgrounds. Melvill is a test pilot, Binnie was a Navy pilot, and Shane and Siebold are engineers at Scaled Composites. They have qualified to fly SpaceShipOne by training on the Tier One flight simulator and in White Knight and other Scaled Composites aircraft.
Flights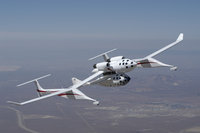 Flights of SpaceShipOne are numbered, starting with flight 01 on May 20 2003. One or two letters are appended to the number to indicate the type of mission. An appended C indicates that the flight was a captive carry, G indicates an unpowered glide, and P indicates a powered flight. If the actual flight differs in category from the intended flight, two letters are appended: the first indicating the intended mission and the second the mission actually performed.
In the table below, the "top speed" reported is the Mach number at burn-out (the end of the rocket burn). This is not an absolute speed.
Specifications (SpaceShipOne)
General characteristics
Crew: one pilot
Length: 5 m
Wingspan: 5 m
Height:
Core Diameter: 1.52 m
Wing area: 15 m²
Empty: 1,200 kg
Loaded: 3,600 kg
Maximum takeoff:
Performance
Maximum speed: Mach 3.09 (3,518 km/h)
Range: 65 km
Service ceiling: 112,000 m
Rate of climb: 25,000 m/min
Wing loading: 240 kg/m²
Thrust-to-Weight: 20 N/kg
**Most info from astronautix.com
Watching SpaceShipOne fly
Missing image
IMG_1237.jpg
SpaceShipOne's spaceflights have been watched by large crowds at Mojave Spaceport. Unfortunately, SpaceShipOne launches to the east of the spaceport early in the morning, which means that it is in the same part of the sky as the sun for viewers at the spaceport. This makes viewing more difficult, and caution is required when viewing through binoculars and telescopes. Nevertheless, direct viewing of the flight is entirely possible, and spectators can clearly see the takeoffs and landings of SpaceShipOne and its chase planes. Sonic booms are also part of the spectators' experience.
External links
Template:Commonsda:SpaceShipOne de:SpaceShipOne es:SpaceShipOne eo:SpaceShipOne fr:SpaceShipOne hu:SpaceShipOne ms:SpaceShipOne nl:SpaceShipOne ja:スペース・シップ・ワン pl:SpaceShipOne pt:SpaceShipOne ru:SpaceShipOne fi:SpaceShipOne sv:SpaceShipOne