South Pembroke
From Academic Kids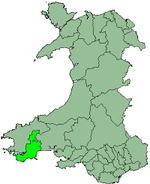 South Pembroke was a local government district in Dyfed, Wales from 1974 to 1996.
It was formed on April 1, 1974 from the Pembrokeshire boroughs of Pembroke and Tenby, along with Narberth urban district and Narberth Rural District and Pembroke Rural District.
It was abolished on April 1, 1996, merging with its neighbouring district of Preseli to form a reconstituted Pembrokeshire.