Seahorse
This article is about the fish; for other meanings of seahorse, see Seahorse (disambiguation).
Hippocampus is a genus of fish known as Seahorses (family Syngnathidae). They are found in temperate and tropical waters all over the world.
Seahorses range in size from 16 mm (the recently discovered Hippocampus Denise [1] (http://www.projectseahorse.org/denise.html)) to 35 cm. They are notable for being one of only a few species where the males get pregnant. A seahorse pregnancy lasts approximately two to three weeks. Seahorses are also unusual among fishes for being monogamous.
Missing image
Seahorse.jpg
Seahorse populations have been endangered in recent years by overfishing. The seahorse is used in traditional Chinese herbology, and as many as 20 million seahorses may be caught each year and sold for this purpose. [2] (http://www.pbs.org/wgbh/nova/seahorse/vincent.html)
Seahorses reproduce in an unusual way: the male becomes pregnant. The mating pair entwine their tails and the female aligns a long tube called an ovipositor with the male's pouch. The eggs move through the tube into the male's pouch where he then fertilises them. The embryos will develop for between ten days and six weeks, depending on species and water conditions. When the male gives birth he pumps his tail until the baby seahorses emerge.
Though close relatives of seahorses, sea dragons have larger bodies and leaf-like appendages which enable them to hide among floating seaweed or kelp beds. Sea dragons feed on larval fishes and amphipods, such as and small shrimp-like crustaceans called mysids ("sea lice"), sucking up their prey in their small mouths. Many of these amphipods feed on the red algae that thrives in the shade of the kelp forests where the sea dragons live.
Import and export of seahorses will be controlled under CITES from May 15, 2004.
Species
There are approximately 35 known species of seahorse including: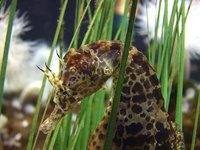 See also
Missing image
Heraldicseahorse.JPG
In heraldry, a seahorse is depicted as a creature with the foreparts of a horse and the hindparts of a fish. See, for example, the sinister supporter of the Isle of Wight Arms, or the supporters on either side of the crest of the city of Newcastle upon Tyne.
External links
Leafy Sea Dragons
de:Seepferdchen es:Caballito de mar fr:Hippocampe (poisson) nl:Zeepaard pt:Cavalo-marinho fi:Merihevoset zh:海马属