Scythe
From Academic Kids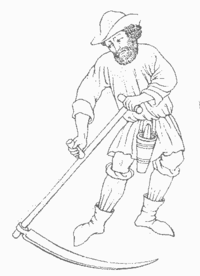 A scythe is an agricultural hand tool for mowing and reaping grass or crops. It consists of a long (about 170 cm) wooden shaft called a snath (modern ones are sometimes made from metal and/or plastic) with a perpendicular handle at one end and another roughly in the middle. The handle at the end of the snath could be omitted but the handle in the middle of the snath is a must, it is used to control the position of the blade. A long blade (roughly 60-80 cm, approx. 26"-30") with a slight curve mounted perpendicular to the snath is mounted at the other end. A scythe is used by holding the handles such that the blade is approximately parallel to the ground (with the heel nearly touching the ground) and swinging one's arms from side to side. When done correctly the blade makes wide sweeping motions.
The scythe appeared in Europe during the 12th and 13th centuries. Initially used mostly for mowing grass, it replaced the sickle as the tool for gathering crops by the 16th century.
In the developed world, it has now largely been replaced by motorized lawnmowers and combine harvesters. It still proves to be indispensable for farmers in Third World countries and in mountainous terrain.
The Abbeydale Industrial Hamlet in Sheffield, England is a museum of a scythe-making works that was in operation from the end of the 18th century until the 1930s.
The Allen Scythe was a motorised grass cutter with a toothed blade which slid back and forth across a stationary toothed blade to produce a scissor action. It was manufactured between 1935 and 1973 in Oxford, England.
If the blade is transformed so that it extends upright from the staff, it can be used as an offensive weapon similar to the halberd. It was widely used for that purpose by Polish peasants (kosynierzy) in the 18th and 19th centuries.
The scythe also plays an important traditional role, often appearing as weapons in the hands of mythical beings such as Father Time, the four horsemen of the Apocalypse and the Grim Reaper (Death). This stems mainly from the Christian cultural interpretation of death as a "harvest of souls".de:Sense (Werkzeug) he:חרמש fr:Faux (outil) pl:Kosa (rolnictwo) nl:Zeis fi:Viikate sv:lie