Scooter
Missing image
Honda_nh80.jpg
Missing image
A_modern_scooter.jpg
A scooter is any of several related types of vehicle, used for transport for recreational or medical purposes.
Road motor scooter
A road motor scooter is a motorcycle with a step-through frame in which the rider sits without straddling any part of the engine. Most modern motor scooters have automatically shifting transmissions CVT and also have wheels smaller in diameter, between 8 and 14 inches (20-35 cm), than other motorcycles. The engine is usually found near the rear wheel or axle and is typically smaller than engines on other motorcycles. Most modern motor scooters come with two-stroke_cycle engines with automatic oil injection, however, cleaner burning four-stroke cycle engines are becoming popular and high powered electric road scooters are on the horizon now that small electric motorcycles like the Viento and the eGO have been released.
Missing image
BKK_Vespa078.jpg
Road motor scooters are tremendously popular in Europe (especially Italy), India, China, Japan, Taiwan and in many places in the world, however for some reason not in the United States. In many parts of the world, motor scooters are a popular form of urban transportation due to their size, fuel-efficiency, weight, and typically larger storage room than a motorcycle. In many localities, certain road motor scooters are considered by law to be in the same class as mopeds or small motorcycles and therefore they have fewer restrictions than that of larger motorcycles. In North America the legal distinctions vary by state but usually refer to motorcycles with an engine displacement of 50 cc (cubic centimeters) or less as being in the moped class. In the UK from the 1960s, Mods and Skinheads rode customised Vespas and Lambrettas, adorned with many extra mirrors and chrome parts. The scene is still alive in the UK, and has spread to other countries as far away as Australia and the United States.
Missing image
Motorroller_01_KMJ.jpg
The Vespa originally manufactured by Piaggio in post World War II Italy with aircraft materials and styling became the first of the road motor scooters and defined the vehicle type for three and a half decades. In the 1980s new versions of scooters began to be released and become popular, especially in Japan and Far-East Asia. This styling of scooters began to reflect that of larger, sporty, higher-performance motorcycles of the time and the trend has continued to the current day. With the release of the Honda Ruckus, there may be a new trend towards dirt-bike scooters just beginning. The classic styling of the Vespa has never lost its popularity, however and remains the most popular and most imitated scooter design. Almost all manufacturers now carry both a classic/retro model and a sporty/modern model.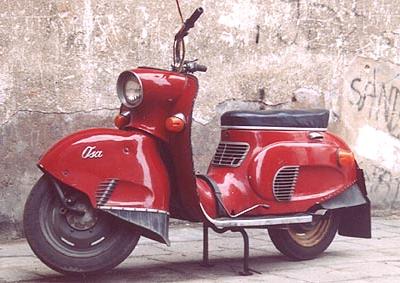 In recent years, collecting vintage motor scooters has become a popular hobby. A good example of a collectable scooter is a Cushman. These are large scooters that were built in Lincoln, Nebraska from 1936 until 1965. Some models are seven feet (2.1 m) long and weigh over 300 pounds (136 kg). Most are powered by the Cushman Husky engine, which is a cast iron flathead design. Cushmans usually have 8 horsepower (6 kW) or less, but some Cushman Eagles have an aluminum OMC engine with overhead valves and 9 horsepower (7 kW). [1] (http://www.hobbytech.com/)
Assistive and small electric sit-down motor scooters
This type of scooter has become a great boon to people with mobility problems all over the world.
Powerchairs
Powerchairs (or "electric wheelchairs") use electric motors instead of manpower. They are usually powered by deep-cycle batteries similar to those used to power outboard boat engines. The user typically controls speed and direction by operating a "joystick" similar to that found on arcade video game consoles. Many other input devices can be used if the wheelchair user lacks coordination or dexterity of the hands or fingers or cannot use the hands at all.
Scooters
Scooters, "Carts", or "POVS", in the context of a device used help disabled individuals gain mobility, are small electric-powered vehicles. They usually incorporate an upholstered seat, a tiller for steering, and thumb-controlled throttle levers to control speed. Different from a powerchair in that the user physically turns the front wheel(s) to manuever the vehicle, instead of operating some other input device (joystick) that interprets the users commands electrically. Scooters are typically larger than powerchairs and are used more commonly for recreational uses.
The primary differences between road motor scooters and electric road scooters are the use of electric motors and their tendency to not be built for heavy road use. Small electric scooters are becoming popular in North American campgrounds and suburban areas, as well as with youth.
Manufacturers and distributors of these mobility products for the disabled include:
Motorized one-axle, stand-up scooters
Parallel wheeled variants of electric scooters, stand-up scooters gained much attention in 2002 and 2003 with the release of the much anticipated Segway HT. The company which has been marketing the Segway has attempted with some success to pass legislation to allow this type of scooter on city sidewalks in North America. All other types of scooters are typically confined to the roadway or bike lanes.
Children's/push stand-up scooter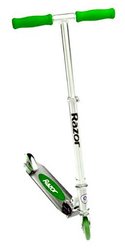 A children's or adult push scooter or kick scooter lacks a motor, and the user generally stands on a platform with a vertical post that controls steering. Although sometimes as simple as a board and post hand-mounted on roller skate wheels, commercial versions (often variants of the skateboard) have met with varying degrees of popularity.
Smaller Kick Stand-up Scooter
In the early 2000s, a sleeker, narrower folding version of the kick scooter became wildly popular in the US, with a wide variety of colors and styles. Popular brands include Razor, Kick, and Xootr [2] (http://www.xootr.com/xootr/default.htm).