Binghamton University
From Academic Kids
Binghamton University
Missing image
BinghamtonUlogo.jpg
Logo of Binghamton University



Binghamton University, also known as the State University of New York at Binghamton, is a public university located in the Binghamton, New York, USA area. It is one of the largest universities in the State University of New York system. Binghamton University offers a wide variety of programs to its 10,000 undergraduate and 2,600 graduate students. Binghamton University is considered by some to be the top school in New York State's public university system.
History of Binghamton University
Binghamton University (BU) was established in 1946 as the Triple Cities College, to serve the needs of local veterans returning from World War II. Established in Endicott, New York, the college was a branch of Syracuse University. When the college was incorporated into SUNY in 1950, it was renamed as Harpur College, in honor of Robert Harpur, a Colonial teacher and pioneer who settled in the Binghamton area. In 1961, the college was moved to its current location in Vestal, New York. After Harpur was selected as one of the four university centers of SUNY in 1965, it was renamed as the State University of New York at Binghamton. As other schools were added to the university, Harpur College remained the liberal arts college of Binghamton University. Harpur College is still the largest of Binghamton University's schools with over 7000 students. Harpur is often still considered BU's nucleus, housing much of the University's administrative structure.
The university today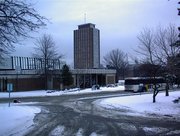 The campus is spread over 887 acres (3.6 km&sup2) along the
Susquehanna River
. It features a 190 acre (0.8 km&sup2) Nature Preserve, a forest and wetland area that includes a six acre (24,000 m&sup2) pond that adjoins the campus.
The school's sports teams are called the Bearcats (formerly the Colonials). They participate in NCAA Division I athletics through the America East Conference.
The school features five undergraduate and two graduate residential communities. The undergraduate dorm communities, in order of completion, are:
Dickinson Community (ostensibly named for the city of Dickinson)

Opened in 1959, originally as Dickinson College, but change in 1975 by student demand to Dickinson Community.
Individual dorms: Champlain, Digman, Johnson, O'Connor, Rafuse, Whitney
Dorms named for local residents of importance when the community was constructed
Dorms are made up of double-occupancy rooms

Newing College

Opened in 1962
Individual dorms: Bingham, Broome, Chenango, Delaware, Endicott
Broome, Chenango, and Delaware are named for surrounding counties. Bingham is named for the founder of Binghamton. Endicott is named for the bordering town.
Dorms are made up of double-occupancy rooms

Hinman College (named for Senator Harvey D. Hinman)

Opened in 1968
Individual dorms: Cleveland, Hughes, Lehman, Roosevelt, Smith
Dorms named for New York State governors
Dorms are a mix of singles, doubles, and suites

College in the Woods (aka "CIW")

Opened in 1972
Individual dorms: Cayuga, Mohawk, Oneida, Onondaga, Seneca
Dorms are named for the five regional Native American tribes that made up the Iroquois nation.
Dorms are a mix of doubles, triples, quads, and five or six-person suites
Mohawk is the newest member of the CIW family, opening in 2000. It is designed very similarly to the Mountainview College.

Mountainview College

Opened in 2003
Individual dorms: Marcy, Windham, Cascade, Hunter
Dorms are named for important mountains in New York State.
Dorms are mostly suites, with one triple on each floor.
The graduate halls, also made available to upperclassmen, are:
Susquehanna Community

Opened in 1984
Individual buildings: Brandywine, Choconut, Nanticoke, and Glenwood
Buildings named for local creeks

Hillside Community

Opened in 1990
Individual buildings: Adirondack, Belmont, Catskill, Darien, Evangola, Fillmore, Glimmerglass, Hempstead, Jones, Keuka, Lakeside, Minnewaska, Nyack, Palisades, Rockland and Saratoga
Buildings named for cities, counties, or regions in New York State.
Each building consists of a set of apartments, each of which house four to eight students
The school also operates one of the few remaining free-format college and community FM radio stations left in the United States, WHRW (http://www.whrwfm.org). Apart from the radio station, the college also is home to one of the country's largest entirely student-run college television station, BTV.
Famous alumni
External links
Accolades
The Fiske Guide to Colleges has recognized Binghamton as "the premier public university in the Northeast." (Fiske, Edward B. Fiske Guide to College 1997. Crown Publishing Group. 1996.