Rune stone
From Academic Kids
Missing image
Rune_stone.jpg
Rune stones are standing stones with runic inscriptions dating from the Iron Age (Viking Age) and early Middle Ages.
The tradition of raising runestones probably evolved from the old tradition of raising menhirs in honour of a deceased during the Pre-Roman and Roman Iron Ages. The tradition is both mentioned in the Heimskringla and Hávamál. The menhirs probably had painted inscriptions which disappeared over time, but they were later replaced by carvings that lasted longer.[1] (http://www.archaeology.su.se/pdf/caugustsson.pdf)
Long before their conversion to Christianity, Old Norse-speaking peoples, like other Germanic peoples, had their own mode of writing with its own distinctive alphabet –– the runic alphabet. Runes were hundreds of years old by the dawn of the Viking Age. Our earliest surviving runic inscriptions date to the second century AD. Although Latin literacy would eventually push out this system of writing, it had a long run after conversion, and hundreds of Viking Age rune stones contain Christian inscriptions.
Although runes were known throughout the Germanic-speaking world, they were used more broadly, more enthusiastically, and by more people in Scandinavia during the Viking Age than in any other time or place. Between 5,000 and 6,000 runic inscriptions have been found in Scandinavia. More than 3,000 come from modern-day Sweden, so this region was clearly the epicenter of runic inscriptions. Nonetheless, many hundreds have been found elsewhere in Scandinavia. Old Norse runic inscriptions have also been found in Russia, Greenland, northern Scotland, the Isle of Man, England, and Ireland, so the "runic inscription habit" followed the Norse wherever they went.
Missing image
Runsten1.jpg
We can divide rune stones into various categories. One of the largest of these is rune-stone-as-memorial. Rune stones were often set up to commemorate the dead, and many of Scandinavia's surviving rune stones served as memorials for people who had died far from home. Four will suffice to show the wide range of Norse activities related on rune stones: (1) "Ali had this stone put up in his own honor. He took Cnut's danegeld in England. May God help his soul." (2) "Tola had this stone set up in memory of her son Harold, Ingvaur's companion. Like men, they went to seek gold, and in the east, they fed vultures, when they died in the land of the Arabs." (3) "This mark of honor is made in the memory of Inga's sons. She has inherited after them, but brothers inherited after her, Gardar and his brothers. They died in Greece." And finally (4): "He bought this estate with the money he made in the east in the emporia of Russia."
Another interesting class of rune stone is rune-stone-as-self promotion. Bragging was a virtue in Norse society, a habit in which the heroes of sagas often indulged, but we can also see it in runstones as well. Hundreds of people had rune stones carved to advertised their own deeds. Again, a few examples will suffice: (1) "Östman Gudfast's son made the bridge, and he Christianized Jämtland;" or (2) "Eskill Skulkason had this stone raised to himself. Ever will stand this memorial which Eskill made;" and finally (3) "Jarlabanki had this stone put up in his own lifetime. And he made this causeway for his soul's sake. And he owned the whole of Täby by himself. May God help his soul."
Other rune stones, as is evidence in two of the previous three inscriptions, memorialize the pious acts of relatively new Christians. In these, we can see the kinds of good works people who could afford to commission rune stones undertook. Other inscriptions hint at religious beliefs. For example, one reads: "Ulvshattil and Gye and Une ordered this stone erected in memory of Ulv, their good father. He lived in Skolhamra. God and God's Mother save his spirit and soul, endow him with light and paradise."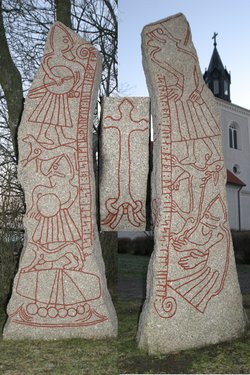 Although most rune stones were set up to perpetuate the memories of men, many speak of women. We can see them acting as conscientious landowners and pious Christians (e.g., "Sigrid, Alrik's mother, Orm's daughter made this bridge for her husband, Holmgers, father of Sigoerd, for his soul"), as important members of extended families (e.g., "Mael-Lomchon and the daughter of Dubh-Gael, whom Agils had to wife, raised this cross in memory of Mael-Muire, his fostermother. It is better to leave a good fosterson than a bad son"), and as much-missed loved ones (e.g., "Gunnor, Thythrik's daughter, made a bridge in memory of her daughter Astrid. She was the most skilful girl in Hadeland.").
Rune stones that date to after the introduction of Christianity often include the Christian cross and use the younger futhark runes. But older stones are pagan Norse and use the older futhark. Their inscriptions are the oldest written texts created in the Nordic countries and some give a few clues about mythology and the society in Scandinavia before the conversion.
Several inscriptions include works of art, for example, the runes may be inscribed inside a serpent-like creature, and some stones ("image stones") found on Gotland contain artistic imagery without any runes.
When the stones were carved, the runic letters were also painted with some color, mostly red (based on archaeological analysis), so they would be easily visible. Newly discovered stones often lack this color because of erosion, but caretakers nowadays make sure they are repainted and readable. It is probable that also the fields formed by the inscriptions were painted in contrasting colors (mainly abundant black, white, and brown), for a greater aesthetic effect. The surface colors were exposed to a higher degree of erosion, has only fairly recently been proposed as common.
Famous rune stones and image stones from Gotland
The Eggjum stone
The Ramsund carving
The Rök Stone
The Austers Hangvar Stone
The Halla Bora stone
The Husaby Stone
The Hogrän Stone
The Klinte Stone
The Kylver Stone
The Martebo Stones
The Pilgards Rune Stone, Boge
The Sanda Stones
The Sjonhem Stone
The Stenkjyrka Stone, Lillebjärs
The Stora Hammars Stone and the Tägarda Rune Stone, Lärbro parish
The Timans Rune Stone
The Tängvida Stone
Compare Megalithic Standing stones, Gaelic High crosses.
The highly controversial Kensington Runestone is located at Alexandria, Minnesota.
See also
A common problem when researching things Norse is that the spelling of names varies much depending on one's country of origin. In the articles presented here, several common forms of the names will be presented. For more information see:
External links
da:Runesten de:Runenstein eo:runsxtono sv:Runsten