Royal Naval College
From Academic Kids
Missing image
United_Kingdom_-_England_-_London_-_Greenwich_-_Old_Royal_Naval_College.jpg
The Royal Naval College was a Royal Navy training establishment between 1873 and 1998, in the centre of the Maritime Greenwich World Heritage Site in London. It provided a number of courses for naval officers including being home to the Royal Navy's staff college, the staff course providing advanced training for mid-ranking officers.
The buildings were originally constructed to serve as the Greenwich Hospital, designed by Christopher Wren, and built between 1696 and 1712. The hospital closed in 1869. The site was formerly occupied by the Palace of Placentia, built by Humphrey, Duke of Gloucester in 1428.
From 1962 to 1996 the College housed JASON, an operational nuclear reactor for naval training. It was fully dismantled in 1999.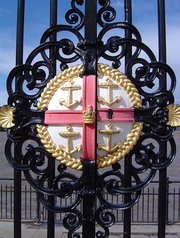 In 1998 the Royal Navy left Greenwich and handed over responsibility for the site to the Greenwich Foundation. In late 1999, the University of Greenwich began teaching in the Queen Anne, Queen Mary and King William Courts, and in October 2001, the Trinity College of Music began teaching in King Charles Court.
See also