Rishon LeZion
From Academic Kids
Rishon LeZion, or Rishon LeZiyyon (ראשון לציון) is a city in Israel, on the central coastal strip, in the Center District of Israel, just south of Tel Aviv, and part of the Tel Aviv metropolitan area (Gush Dan). It is the fourth largest city in Israel with about 227,000 residents. Its present mayor is Meir Nitzan.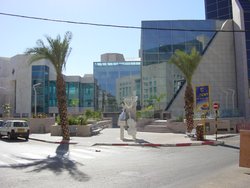 History
Rishon was founded on July 31, 1882 by a group of 10 Hovevei Zion (Zion lovers) members from Kharkov, Russia, led by Zalman David Levontin who purchased 835 acres (3.4 km²) of land south-east of current day Tel Aviv for this purpose near an Arab village named Eyun Kara. It is considered (along with Petah Tikva) as the first Zionist settlement in Israel and the settlers are considered part of The First Aliya. The land was owned by Tzvi Leventine and was purchased by the "Pioneers of Jewish Settlement Committee" that was formed in Jaffa, the port of arrival of many of the immigrants to the area.
The new settlers faced a lot of difficulties: sandy soil, lack of water, poverty and mainly the lack of agricultural experience. After the digging of the Great Well and a wave of new settlers arriving (the Biluim) the new settlement started to establish itself. It was later given into the custody of Baron Edmond James de Rothschild who supported the settlement and helped develop their agriculture, citrus fruit ("Pri Adar") and wine industry.
Rishon-LeZion, which literally means "The first to Zion", was a pioneer not only in erecting houses but also in cultural life. In Rishon, the first Hebrew school was founded in 1886, and the first Hebrew kindergarten was founded in 1899. In 1886, construction began on the Rishon Le-Zion winery. In Rishon, the national anthem of Israel, Hatikvah (The Hope), was written and the Flag of Israel was created.
The population numbered 266 in 1890. Five years later it had increased to 450, and in 1898 to 531.
Name
The name Rishon LeZion literally means "First to Zion", it was chosen because of the biblical verse:
"First to Zion are they, and I shall give herald to Jerusalem" - "ראשון לציון הנה הינם, ולירושלים מבשר אתן"
from Book of Isaiah , chapter 41, verse 27.
List of Rishon's mayors
List of notables in Rishon's history
"Rishon's Parliament"
The "Rishon's Parliament" is a mythological group of Rishon's elders and veterans who were known for their wit and unique style. The group used to assemble about three times a week to discuss current events and exchange anecdotes and jokes. Their stories were documented by Uri Porat and Amnon Nahmias and published in a series of stories in Yediot Aharonot and later in a book called Rishon - The Wild East.
Rishon Le-Zion today
Today, Rishon-LeZion is the fourth most populated city in Israel and is known for its high quality of life.
Industry and commerce
Rishon's main industries are wine, construction, services and commerce. It has special quarters (called Ezorey ha-Taasiya) for small factories and workshops, in order not to disturb the residentals areas with noise and pollution. Since there are no residents in the industry zones, they become a hang-out centers packed with pubs, dancing clubs and restaurants that are open till the small hours of nights.
Rishon LeZion had many shopping centers and malls, most of them were allocated in the new west. However, competition brought most of them to be closed. Currently, the two major malls ( קניון ) in Rishon are Rotschild Center in the old down and Gold Mall (Kanyon ha-Zahav) in the new west.
Culture
The city, usually referred to as "Rashlatz" (In Hebrew, short for Rishon Le-Zion) or just "Rishon", homes the annual Rishon Le-Zion Wine Festival, a one of a kind cultural event in Israel. Rishon is also known for the high number of shopping centers, the Amfi-Park (Which once held shows of international artists like Sting, Metallica, Alanis Morissette and more), a zoo, an entertainment center (The Superland), and the promenade on the beach.
Rishon also have a large and high reputed Culture Center, called in Hebrew: Heichal Ha-Tarbut (Hall of Culture). It is a modern center for concerts, theatre and cultural events. It has one main hall for shows and two small halls for artistic workshops.
Rishon has a symphonic orchestra and its musical director is the conductor Mandi Rodan.
Education
Elementary schools (1st - 6th grades):
Haviv - the first Hebrew school חביב
Beeri בארי
Yesod ha-Maala יסוד המעלה
Oranim (closed) אורנים
Hadarim הדרים
Hudini עדיני
Ein ha-Kore עין הקורא
Ashalim אשלים
Belkind (special education) בלקינד
Alonim אלונים
Junior high schools (7th - 9th grades):
Zalman Aran זלמן ארן
Dorot דורות
Aharon Karon (closed) אהרון קרון
Micha Raicer מיכה רייסר
Mordey ha-Getaot מורדי הגטאות
Tabib טביב
Ha-Maayan המעיין
Aharon HaBilooyim
High schools (10th - 12th grades + 2 years for professional studies):
Ankori Rishon LeZion
Makif Aleph - Gymnasia Realit (established in 1939) גימנסיה ריאלית
Makif Beth - religious high school
Makif Gimel - Amit Amal עמית עמל
Makif Dalet - Gan Nahum גן נחום
Makif Ey - Shaar Rishon שער ראשון
Makif Vav - Yigal Alon יגאל אלון
Makif Zain - Revivim רביבים
Makif Het - Avnei ha-Hoshen (7th - 12th grades) אבני החושן
Makif Tet
Makif Yud
Higher education:
College for Administration המכללה למנהל.
Sports
Rishon gained notoriety in handball כדוריד and chess שח. It also has soccer and basketball teams, but they play in the second leagues.
In handball, Hapoel Rishon dominates the handball league with more than 7 domestic championships and cups in a row. Its biggest stars are the goalkeeper Vladimir Zaikman and field-player Idan Maimon and Dudi Balsar. Its biggest rival is Maccabi Rishon.
In chess, the Rishon LeZion Chess Club (founded at 1939) is one of the leading clubs in Israel, in senior, women and youth leagues. Israeli grandmasters such as Boris Alterman play in Rishon. For some time it had Garry Kasparov play several games for it.
Neigbourhoods and places
Rishon-LeZion's main quarters are:
The Old City ("Downtown") - the whole area around Herzl street and Jabotinsky street. The center of the Old City is Rotschild street, near the Midrehov (padestrian mall) and the old Gan-HaMoshava (The City Park).

Neigbourhoods: Rishonim (Gan Nahum), Abrahmovich, Katzanelson (Shikun Poalim), Shikun Mapam and Shivat-Zion.

Shikun(ey) Ha-Mizrah (The Eastern Resident) - located in the eastern part of Rishon.

Neigbourhoods: Shikun Ha-Mizrah, Ha-Rambam, Mishor Ha-Nof, Revivim (Shikun Sela), Kidmat Rishon.

Old Mabat - "The Old Industrial Zone" which officially named "Mis'har, Biluy, Taasia" (commerce, entertainment and industry) was full of light industry and glass factories. Today it is the center of motor garages, large food stores and has a vivid night life in a pedestrian mall filled with bars and cafes. The Old Mabat is located in the northern part of Rishon, near HaMaccabim road (the road called "Kvish Beit-Dagan" by the locals).
Maarav Rishon (The New West) - built in the 1980s and mostly populated in the 1990s, the New West is a block of new neighborhoods, connected with modern, wide roads between each other. The New West is the modern part of Rishon and has many parks and community-centers. It considered to be very aesthetic and prestigious and in less than a decade it was filled with more than 100,000 residents, doubling Rishon's population.

Neigbourhoods: Neve Shikma, Kiriyat Ganim, Neve Ashalim, Kiriyat Hatani Pras Nobel, Neot Dkalim (El Pueblo), Ramat Eliyaho.

New Mabat - two new industrial zones in the New West.
Places to see in the Old City of Rishon:
The Midrahov (pedestrian mall).
Gan-HaMoshava (also called "Gan Ha-Nadiv") - Park.
The Great Synagogue.
The Great Well ("Mazanu Mayim").
The Old Water Tower.
The Rishon LeZion History Museum.
The first Hebrew school - Beit Sefer Haviv.
Yekev Carmel Mizrahi - the old wine factory.
Beit Yad LeBanim - originally was the baron's offices but now it serves as a Memorial center to Rishon's sons who fell in Israel's wars.
Heichal Ha-Tarbut (Hall of Culture) - a modern center for concerts, theatre and cultural events. It has one main hall for shows and two small halls for artistic workshops.
Superland - Rishon's amusement park (allocated in the New West).
External link