Redstone (rocket)
From Academic Kids
Redstone
Missing image
Redstone-MR-3-launch.jpg
Redstone launch


Redstone launching Freedom 7.
Stages
1
1
Engines
1 × A-6
Thrust
78,000 lbf (347 kN)
Burn time
~155 s
ISP
265 s
Fuels
Alcohol/LOX
Payload to
185 km
115 mi

1,300 kg
2,850 lb
First launched in 1953, the American Redstone rocket was a direct descendant of the German V-2. It could be armed with a 1 Mt or 3.75 Mt of TNT (4 PJ or 16 PJ) thermonuclear warhead. It was used for the first live nuclear missile tests by the United States. It was also known as the Redstone MRBM (medium range ballistic missile).
A product of the Army Ballistic Missile Agency at Redstone Arsenal, Huntsville, Alabama, under the leadership of Wernher von Braun, it was designed as a surface-to-surface missile for the U.S. Army and was first deployed in 1958. A total of four mobile launchers and equipment, with one reload each, (A total of 8 Redstone MRBM missiles) were deployed in West Germany until 1963. The Redstone was capable of flights up to 200 miles (300 km). It burned alcohol and liquid oxygen.
Redstone could be armed with a 1 Mt or 3.75 Mt of TNT (4 PJ or 16 PJ) thermonuclear warhead. The Redstone was used to launch two live nuclear tests that were detonated during the nuclear test series Operation Hardtack in August, 1958, from Johnston Island in the Pacific Ocean. On August, 1, 1958, Redstone #CC50 launched nuclear test Teak that detonated at an altitude of 77.8 km. On August 12, 1958, Redstone #CC51 launched nuclear test Orange to a detonation altitude of 43 km. Both thermonuclear devices were 3.75 Mt of TNT (16 PJ) weapons. These were the first live nuclear missile tests by the United States.
The Jupiter IRBM (intermediate range ballistic missile) was a direct descendant of the Redstone. Modified Redstone missiles, with solid upper stages added, were used in a series of nosecone development tests for the Jupiter IRBM. These modified Redstone missiles were called Jupiter-C rockets.
Many believe the U.S. could have beaten the Soviet Union into space if the ABMA had been allowed to attempt a satellite launch with the Jupiter-C rocket. A satellite could have been launched by a Jupiter-C in August 1956 if given the go ahead by U.S. government officials. The Eisenhower administration, however, wanted the first U.S. satellite to be launched by a civilian developed rocket instead of a military missile. The Vanguard rocket was being developed for this purpose. They ordered Von Braun not to attempt any satellite launches. The Vanguard rocket failed to launch its Vanguard satellite in December 1957. The Eisenhower administration then turned to the U.S. Army. The ABMA and von Braun were asked to launch a backup satellite as soon as possible. When the Jupiter-C was finally used to launch the Explorer I satellite in January 1958, its Jupiter-C launch vehicle was renamed the Juno I.
Redstone MRBM and Jupiter IRBM propellant tanks were clustered together along with eight Jupiter IRBM engines to form the first stage of the Saturn I and Saturn IB rockets. First developed by the ABMA, the Saturn rocket was later adopted by NASA. These were America's first large launch vehicles. The first of these was launched in 1961.
Redstone was also responsible for the following suborbital launches in the United States Mercury program:
Redstone production was halted in late 1964 and the Redstone missile was replaced by the Pershing missile in the U.S. Army arsenal.
In the late 1960's as series of surplus modified Redstone MRBM missiles were launched in Australia as part of a military test program of reentry vehicles. These Redstone missiles had solid fuel upper stages added to them. One of thse Redstone missiles was used to launch Australia's first satellite, Wresat, in 1967. These series of Australian modified Redstone missiles were called Sparta rockets.

Mercury Redstone Sub-Orbital Flight Events
| T+ Time | Event | Description |
| --- | --- | --- |
| T+00:00:00 | Liftoff | Mercury-Redstone lifts off, onboard clock starts. |
| T+00:00:24 | Pitch Program | Redstone begins pitch program to 49 degrees. |
| T+00:01:24 | Max Q | Maximum dynamic pressure ~575 lbf/ft² (28 kPa). |
| T+00:02:11 | End Pitch Program | Redstone reaches 49 degree pitch. |
| T+00:02:22 | BECO | Redstone engine shutdown - Booster Engine Cutoff. Velocity 5,200 mph (2.3 km/s) |
| T+00:02:23 | Tower Jettison | Escape Tower Jettison, no longer needed. |
| T+00:02:32 | Capsule Separation | Posigrade rockets fire for 1 s giving 15 ft/s (4.6 m/s) separation. |
| T+00:02:37 | Turnaround Maneuver | Capsule (ASCS) system rotates capsule 180 degrees, to heat shield forward attitude. Nose is pitched down 34 degrees to retro fire position. |
| T+00:05:00 | Apogee | Apogee of about 115 miles (185 km) reached at 150 miles (240 km) downrange from launch site. |
| T+00:05:15 | Retrofire | Three retro rockets fire for 10 seconds each. They are started at 5 second intervals, firing overlaps. Delta V of 550 ft/s (168 m/s) is taken off forward velocity. |
| T+00:05:45 | Retract Periscope | Periscope is automatically retracted in preparation for reentry. |
| T+00:06:15 | Retro Pack Jettison | One minute after retrofire retro pack is jettisoned, leaving heatshield clear. |
| T+00:06:20 | Retro Attitude Maneuver | (ASCS) orients capsule in 34 degress nose down pitch, 0 degrees roll, 0 degrees yaw. |
| T+00:07:15 | .05 G Maneuver | (ASCS) detects beginning of reentry and rolls capsule at 10 deg/s to stabilize capsule during reentry. |
| T+00:09:38 | Drogue Parachute Deploy | Drogue parachute deployed at 22,000 ft (6.7 km) slowing descent to 365 ft/s (111 m/s) and stabilizing capsule. |
| T+00:09:45 | Snorkel Deploy | Fresh air snorkel deploys at 20,000 ft (6 km). (ECS) switches to emergency oxygen rate to cool cabin. |
| T+00:10:15 | Main Parachute Deploy | Main parachute deploys at 10,000 ft (3 km). Descent rate slows to 30 ft/s (9 m/s) |
| T+00:10:20 | Landing Bag Deploy | Landing Bag Deploys, dropping heat shield down 4 ft (1.2 m). |
| T+00:10:20 | Fuel Dump | Remaining hydrogen peroxide fuel automatically dumped. |
| T+00:15:30 | Splashdown | Capsule lands in water about 300 mi (500 km) downrange from launch site. |
| T+00:15:30 | Rescue Aids Deploy | Rescue aid package deployed. The package includes green dye marker, recovery radio beacon and whip antenna. |
External link
Redstone family of missiles and launch vehicles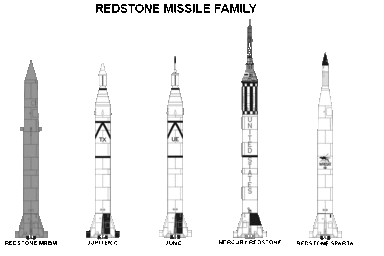 See also: List of missiles