From Academic Kids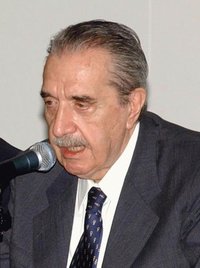 Raúl Ricardo Alfonsín Foulkes (born 13 March 1927) was president of Argentina from 10 December 1983 to 9 July 1989.
A member of the Radical Civic Union, he was elected to the Buenos Aires provincial legislature in 1958. He stood for the radical party nomination for the 1973 Presidential election but lost to Ricardo Balbín.
After the collapse of the military junta in 1983 as a result of the disastrous Malvinas War, new presidential elections were held. Alfonsin, who had been elected leader of the radical party in July that year, became president.
His government prosecuted some members of the previous military regime for human rights abuses committed during the Dirty War but due to continuing economic and labour problems the peronist Carlos Menem won the 1989 Presidential election.
In 1995 he resigned as leader of the radical party after their poor election performance.
External links