Royal National Lifeboat Institution
Missing image
RNLI_flag.gif
The Royal National Lifeboat Institution (RNLI) is a charity dedicated to saving lives at sea around the coasts of Britain and Ireland. It is an all-volunteer organisation founded in 1824 as the National Institution for the Preservation of Life from Shipwreck, adopting the present name in 1854. The organisation is funded entirely by membership fees, voluntary donations and legacies from members of the public.
Since the RNLI was founded its lifeboats have saved over 136,275 lives.
The RNLI operates 5 classes of inshore lifeboats, both inflatable boats and RIBs, of 20-40 knots, and 5 classes of all-weather lifeboats with maximum speeds of 16-25 knots. It maintains an active fleet of 323 lifeboats based at 231 lifeboat stations.
In the United Kingdom, ships in distress or the public reporting an accident must call HM Coastguard on MF radio, VHF radio or dialling 999 on a telephone. In Ireland they must call the Irish Coastguard. The Coastguard co-ordinates rescue at sea and may call on the RNLI or their own land-based rescue personnel or rescue helicopters to take part. Air-Sea rescue helicopters are provided by the Royal Navy and the Irish Air Corps.
The RNLI currently has over 200,000 members whose annual membership fees help to finance the organisation, supporting the 4,600 volunteer sea-going crew members, including over 300 women.
Roll of honour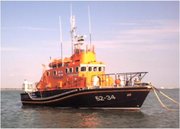 See also
External link