Pueblo people
From Academic Kids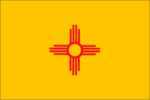 The Pueblo People are a group of Native Americans who live in New Mexico and in Arizona. When first encountered by the Spanish in the 1500s they were living in adobe and stonework towns, mainly in the Rio Grande valley and thus were called "Pueblos," pueblo being the Spanish word for town. About 25 pueblos exist today, Taos, Acoma, Zuni and Hopi the most well known.
The Pueblo Indians consist of six distinct groups, each with its own language:
They are believed to be descended from the three major cultures that dominated the region before European contact:
Mogollon, an area near the Gila wilderness
Hohokam, archaelogical term for a settlement in the Southwest
Historically, they were the only group of Native Americans that supported themselves mostly by agriculture, although they live in one of the more arid regions in North America. European settlement began in the late sixteenth century, but the desert surrounding the Rio Grande Valley precluded massive intrusions into Indian land until the mid-nineteenth century. As a result and despite forced conversions to Catholicism by the Spanish, the Pueblo tribes have been able to maintain much of their traditional lifestyle. There are now some 35,000 Pueblo Indians, living mostly in New Mexico and Arizona along the Rio Grande and Colorado River.
They were the first to successfully revolt against the Spanish in the Pueblo Revolt of 1680, which expelled the Spanish for 12 years. It began August 10th; by August 21st, Santa Fe fell.
Most of the Pueblos have annual ceremonies that are open to the public. In many cases, one such ceremony is the Pueblo's feast day, held on the day sacred to its Roman Catholic patron saint. (These saints were assigned by the Spanish missionaries so that each Pueblo's feast day would coincide with a traditional ceremony.) Some Pueblos also have ceremonies around the Christmas holidays and at other times of the year. The ceremonies usually feature traditional dances outdoors accompanied by singing and drumming, interspersed with non-public ceremonies in the kivas. They may also include a Roman Catholic Mass and processions.
Formerly, all outside visitors to a public dance would be offered a meal in a Pueblo home, but because of the large number of visitors, such meals are now by personal invitation only.
Some feast days appear in the list below.
List of Pueblos
Acoma Pueblo NM 87034 - Keres speakers. Oldest continuously inhabited village in US.
Cicuye Pueblo - now Pecos Pueblo, survivors moved to Jemez Pueblo 1830s.
Hopi Tribe Kykotsmovi AZ 86039 - Hopi speakers. Area of present villages settled around 700 A.D.
Isleta Pueblo NM 87022 - Tiwa speakers. Established 1300s. Feast Days: call.
Jemez Pueblo NM 87024 - Towa speakers. Photography and sketching prohibited at pueblo, but welcomed at Red Rocks.
Laguna Pueblo NM 87026 - Keres speakers. Ancestors 3000 BC, established before 1300. Church July 4, 1699. Photography and sketching prohibited on the land, but welcomed at San Jose Mission Church.
Picuris Pueblo, Peñasco NM 87553 - Tiwa speakers. Feast Day August 10
Piru or Piro Puebloans, Socorro NM - did not participate in Pueblo revolt
Pojoaque Pueblo, Santa Fe NM 87506 - Tewa speakers. Re-established 1930s. Feast Day December 12, January 6
Sandia Pueblo, Bernalillo NM 87004 - Tiwa speakers. Originally named Nafiat. Established 1300s. On the northern outskirts of Albuquerque.
San Felipe Pueblo NM 87001 - Keres speakers. 1706. Photography and sketching prohibited at pueblo. Feast Day May 1
San Ildefonso Pueblo, Santa Fe NM 87506 - Tewa speakers. Originally at Mesa Verde and Bandelier. The valuable black-on-black pottery was developed here by Maria and Julian Martinez. Photography and sketching prohibited at pueblo. Heavily-visited destination. Feast Day January 23.
San Juan Pueblo NM 87566 - Tewa speakers. Originally named O'ke Oweenge in Tewa. Headquarters of the Eight Northern Indian Pueblos Council. Home of the August 1680 Pueblo revolt. Feast Day June 24.
Santa Ana Pueblo NM 87004 - Keres speakers. Photography and sketching prohibited at pueblo. Feast Day July 26
Santa Clara Pueblo, Española NM 87532 - Tewa speakers. 1550. Originally inhabited Puyé Cliff Dwellings on Santa Clara Canyon.
Santo Domingo Pueblo NM 87052 - Keres speakers. Known for turquoise work. Feast Day August 4; Corn Dance.
Taos Pueblo NM 87571 - Tiwa speakers. World Heritage Site. U.S. National Historic Site. Feast Day September 30. Photography and sketching $20. Commercial work requires advance approval.
Tesuque Pueblo - Tewa speakers. Originally named Te Tesugeh Oweengeh 1200. National Register of Historic Places. Pueblo closed to public. Camel Rock Casino and Camel Rock Suites as well as the actual Camel Rock are open.
Zia Pueblo NM 87053-6013 - Keres speakers. New Mexico's State Flag uses the Zia symbol. Feast Day August 15
In 1924 these peoples were granted US citizenship. In 1948, they were granted the right to vote in New Mexico.
See also
Further reading
Pueblo People, Ancient Traditions Modern Lives, Marica Keegan, Clear Light Publishers, Santa Fe, New Mexico, 1998, profusely illustrated hardback, ISBN 1-57416-000-1