Profiled
From Academic Kids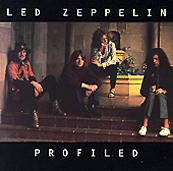 Profiled is an interview album by Led Zeppelin, released by Atlantic Records on September 21, 1990. Profiled was a promo-only interview CD made to accompany the recently-released Led Zeppelin box set. It was later bundled with a special edition Led Zeppelin Remasters.
Track listing
1. "Led Zeppelin Profile"

2-8. "Station Liners"

9-20. "Interview: Jimmy Page"

21-32. "Interview: Robert Plant"

33-43. "Interview: John Paul Jones"

Additional notes
Catalogue: Atlantic PRCD36292